Belated Christmas Gift will help area Veterans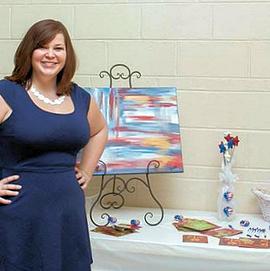 By Tricia Goecks
Editor
BELVIDERE – Bob Ryder, superintendent of the Veterans Assistance Commission of Boone County received a late Christmas present that will benefit several area veterans in need. Alyssa Cortes donated to him a portion of the proceeds of the Home for the Holidays dinner dance that was held at the VFW on Dec. 20.
"It was the largest private donation we've received in 2014 and we were thrilled by it," Ryder said.
Cortes organized the dinner dance after she was inspired by a Rock for the Ranch fundraiser in Schaumburg, Ill. she attended several years ago as a professional photographer. The Schaumburg event included key note speaker Marcus Luttrell who was the lone survivor in the Operation Red Wings ambush in Afghanistan. The movie "Lone Survivor," starring Mark Wahlberg was based on Luttrell's ordeal. "I donated my time to photograph the event and I left feeling inspired to want to help the troops," Cortes said. She had a desire to specifically help Boone County active military and veterans.
With the assistance of her father, Tony Ziegelbauer, who helped her acquire donations including customized furniture, Cortes was able to exceed her fundraising goal. With the money that was raised, care packages will be sent to Alex Jones in Kuwait and brothers Lt. Grant Swanson and his brother Major Luke Swanson who are both stationed stateside.
And the remainder of the proceeds was delivered recently to Ryder in a combination of money and food vouchers. "The food vouchers will be extremely helpful to a lot of veterans who are just short of basic needs and basic food supplies. That will make a big difference to a lot of people who are hurting this winter," Ryder said.  "The money will help us pay utility bills like gas and electric that might be shut off during the months of December January and February."
"These are very basic needs that people have and are having a hard time meeting and this donation will make a huge difference in the lives of at least five to six veterans who are having some pretty significant financial problems."
The Veterans Assistance Commission of Boone County (VACBC), now in its third year, helps area veterans who are in need. "Our main mission is to help indigent veterans on a short term basis," Ryder said. "Our job is more crisis intervention. We try to do what we can to help them over the hump until they are able to be connected with the federal VA."
For low income veterans, the VACBC is able to provide partial payment of utilities, partial payment of rent or mortgage, limited transportation, and other financial assistance. "We try to do what we can to help them over the hump until they are able to be connected with the federal VA," Ryder explained.
"Seventy-five percent of the folks we see are Vietnam era or older.  Many of them are 65, 70 75 years old are on Social Security or on some type of disability so they have a very fixed income. A lot of these folks are trying to live on $1,300, $1,400 a month," Ryder explained.  "If they have one thing go wrong like their car break down, or their heating bill is more than usual, if they have had a medical concern that they cannot pay for, it is a real crisis. One thing goes wrong and they are having a real tough time."
"When I went to the VFW and I paid for the rest of the food and I told her that I wanted to help the local troops, she mentioned the VAC," Cortes explained. "It was exactly what I wanted. I wanted to help vets pay for utility bills or groceries. It was exactly what I wanted"
Private donations help VABC mission
Because the VACBC is funded through property taxes, the veterans the VACBC is limited in who they can help with financial assistance.  "Those private donations give us more flexibility to help the veterans who do not meet the county qualifications," Ryder said. "We have had other donations from individuals in terms of money and food vouchers. It has been a wonderful time."
In addition to the donation from Cortes, Ryder was impressed with the increase in donations that the VACBC received during the month of December. "We have seen so much generosity from people in the month of December whether it is food donations or monetary donations or Afghans or blankets. A lot of people have been extremely generous in the Boone County area and we are extremely thankful," Ryder said.
"He (Ryder) was so grateful. I got a call from him last week and he said they were already giving out the food vouchers. It was awesome knowing what a difference that money is going to make for them," Cotes said.
"One of the best things was the local company that came up with 25 baskets for Christmas," Ryder said of an area company that donated and distributed 25 baskets of food to area veterans in need. "They choose to be anonymous."
Through Charlotte Kennedy's efforts with Sgt. P's Lapghans for Veterans, the VACBC received several Afghan blankets that are hand-made by a legion of area volunteers. Ryder is able to provide the blankets to their clients.
In addition to providing financial assistance and limited emotional counseling to its clients, the VACBC helps Veterans learn about other financial assistance programs for which they are eligible. "We help people qualify for financial assistance. A lot of it is getting them aware of what services are available in Rockford," Ryder said. The VABC helps veterans get connected with the outpatient VA clinic in Rockford as well as the VA hospital in Madison, Wis.
"We are making sure they get connected to folks who specialize in PTSD for veterans both in Rockford and other local hospitals. A lot of that is more crisis intervention, referral and a little bit of financial," Ryder said.
"A lot of the younger veterans are working, and they are not meeting the financial (requirements). We try to give them emotional counseling and help them find the federal agencies they need through the VA to get their medical care."
As for Cortes, she is already making the plans for next year's Home for the Holidays dinner dance.  Many of the people who attended the dance in December offered to help her plan and organize the event going forward.  "Keep a look out it will be held late November or early December.  We will have information posted at VFW for next year," Cortes said.
"I never knew about the VAC before. If I knew about them earlier, I should have been donating. Even $5 makes a difference to somebody."
"We hope more people will be inspired by her (Cortes) efforts to realize how important it is to honor our veterans and to remember them," Ryder said. "Everyone can take a few minutes to say thank you to a veteran and let them know that their efforts are appreciated."
For more information about the VACBC, visit them 175 Cadillac Ct. in Belvidere or call (815) 544-6464.