Belvidere North students compete in Hot Rodders of Tomorrow competition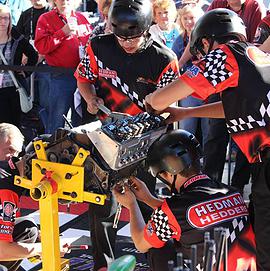 BELVIDERE – Since 2009, Belvidere North High School students have competed in the Hot Rodders of Tomorrow Engine Competition.  Rob Arata, Automotive Technology Instructor at the high school, has encouraged his Auto students to join an after school club which essentially works daily to perfect the disassembly and reassembly of an automobile engine.  After many hours of practice these students enter into nationwide competitions designed for high school students to gain experience working in a team environment, solve issues on the fly, meet key people from all around the world at national trade shows such as SEMA and PRI, and earn tens of thousands of dollars in scholarship money.
Since 2011, BNHS has qualified a team for the National Championships, the first of which they attended was held at the SEMA Show in Las Vegas and the PRI Show that was held in Florida until 2012. In 2013, the National Championships moved to Indianapolis to the PRI Show and BNHS had a team qualify for that year as well.
During the 2014 season, BNHS was blessed with two teams that qualified for Nationals, the Hedman sponsored team took first in both the St. Charles competition here in Illinois and the Michigan competition while the K+N sponsored team took third in both venues as well. In July, the Hedman Team was the first Illinois team to complete a competition run in under 20 minutes for a full teardown and reassembly of a small block Chevy 350 engine. The K & N Team is comprised of Dan Gauerke, Jon Szara, Josh Brouillette, Michael Ruvolo, and Colton Gritzmacher. The Hedman Team members are Devan Atkinson, Keegan Knox, Alex Palka, William Wendt, and Will Haerterich.
The teams then traveled to the Dual National Championships, one a SEMA Show in Las Vegas and the other a PRI Show in Indianapolis.  The Hedman Team placed third at the SEMA Show in early November, competing against the 15 top teams in the country and only missed second place by seven seconds, pulling the fastest times in competition to date. The K+N Team traveled in mid-December to Indianapolis to the PRI Show and took seventh out of 15 teams pulling off some of their personal best times as well. Both teams ended up in the top ten out of 30 teams with the Hedman Team tying for sixth and the K+N Team in ninth.
In just this year alone, BNHS raised $202,500 in scholarships earned by both teams, with a new Grand Total near three quarters of a million dollars in scholarships earned since students started entering the competitions in 2009.
Coaching is key for the BNHS Hot Rodder Teams, with countless hours of dedication by Coach Robert Arata.  He is joined by his wife Jill, who has been recognized by BNHS and the Hot Rodders of Tomorrow as an official coach.  Jill is the first female coach to have a team compete at the national level.
The horizons for BNHS in 2015 have yet again two teams with a hopeful third comprised completely of female members coached by a female coach which has never been done before in Hot Rodders history.
You can visit www.hotroddersoftomorrow.com for more information.