Byron Firefighter lifts spirits of childhood friend before she passes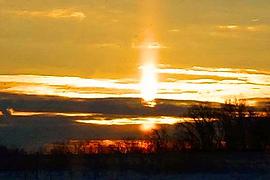 By Tricia Goecks Daily Republican Editor
 BELVIDERE – On Christmas Eve, a convoy of cars, fire trucks, and police cars made its way from Belvidere North High School to the Prairie Ridge subdivision in Belvidere. Included with the procession was a pink fire truck and pink squad car from Pink Heals.
With sirens wailing, the caravan made its way towards the Re home with friends and well-wishers to lift the spirits and support Melissa Re.
In 2011, Melissa was diagnosed with a rare genetic form of lung cancer caused by an epidermal growth factor receptor (EGFR) mutation. A neuro intensive care nurse at OSF St Anthony Medical Center and sophomore girls' basketball coach at Harlem High School, Melissa cherished every moment that life had to offer while she battled cancer with her constant smile.
She enjoyed thrill seeking activities such as sky diving, zip lining, and taking hot air balloon rides. A scuba diver before her cancer diagnosis, she tried to continue the sport after a lung had been removed. As her dad Fran Re tells the story with a chuckle, she floated lopsidedly.
Her girls from Harlem High School called themselves the Energetic 8 and they participated each year in the Relay for Life of Winnebago County and raised thousands of dollars for the American Cancer Society.
Through radiation, chemotherapy, medication, surgery and a positive attitude, scans indicated that she had beat cancer. For 19 months, Melissa celebrated every day of being cancer-free.
In October 2013, the cancer returned and the medication to keep the EGFR mutation in check was no longer working. In March 2014, Melissa was accepted into a clinical research trial at MD Anderson Cancer Clinic in Houston.  Every five weeks she flew to Houston with her mom, Debbie, or her dad, Fran. By September 2014, the cancer had spread to the membrane of the abdominal cavity.
Declining health forced Melissa to step down from her role as head coach of the Lady Huskies sophomore basketball team. She loved her athletes and took the assistant coach role.
Most frustrating to Melissa was that she had to postpone a Dec. 26 trip to the Riviera Maya, Mexico with her girlfriends.
Ever the optimist, the woman who would force her vacationing friends to wake up in the pre-dawn hours to watch the sunrise planned to return to Mexico.
"I think we are going to try to go for Martin Luther King weekend. I am going whale watching," Fran Re recalled his daughter as telling him.
Friends conspire to lift Melissa's spirits
Todd Winnie saw a touching story about police officers who were pulling over vehicles and instead of giving tickets, they gave Christmas gifts. Motivated to do something similar, Winnie's thoughts drifted to his childhood friend.
"She was smiling all of the time and had an infectious personality," Winnie said. "She was willing to help anyone at any time and was a role model."
Melissa's childhood friend wanted to do something to lift her spirits. Hiding Melissa and her family from his Facebook feed, Winnie reached out online and was immediately overwhelmed by the positive response and the donations that came pouring in.
A firefighter with the Byron Fire Department, Winnie asked members of the Boone Country Rural Fire District #2 if they would be interested in providing an escort from Belvidere North to Melissa's home.
Eventually, the plan grew and fire trucks from Northwest volunteer fire department, North Park Fire Department, Boone County Rural Fire District #2, and Pink Heals assembled on Christmas Eve at the high school parking lot.
Joined by members of the Fire and Iron motorcycle club and other friends, members of those assembled wrote inspirational comments and well wishes on the Pink Heals squad car and fire truck.
"You cannot meet anyone and find that there is not affected by cancer in some way or another either directly. Everyone is affected by it in some way," Ricki Gomes from Pink Heals said. "Our goal is to help the people who are affected by it and give support."
"The main reason why I wanted to do something like this was to get her spirits up and give her that oomph to show her that she was not fighting alone," Winnie explained.
With four squad cars from the Boone County Sheriff's Department that blocked the intersections between the high school and Melissa's home, the group of at least 40 people made its way to surprise Melissa for what would turn out to be an emotional visit.
When Melissa heard the sirens outside of her home, she went outside.
"Each one of the firemen gave her a hug. It was very cool and neat," Keith Clark, volunteer deputy from the Boone County Sheriff's Department said. "It was neat to see how many people came together. There was a very good turnout for this."
On the truck, Melissa signed the Pink Heals fire truck and wrote "Keep it going."
Final journey
On Jan. 8, surrounded by friends and family at home, Melissa lost her courageous battle against cancer. She was 31 years old.
"She fought and fought and fought and she smiled through the end," Winnie said. "She would definitely be missed ".
In addition to her parents Fran and Debbie, she is survived by her siblings Matthew, Michael and Meagan.
Once again, Winnie reached out to Boone County Rural Fire District #2 and the North Park Fire Department to continue what they had started on Christmas Eve.
On Jan. 12, a fire truck from each department accompanied the funeral procession from St. James Catholic Church in Belvidere to Sunset Memorial Gardens in Machesney Park.
At the funeral, the Lady Huskies asked the Re's if they would be at their Jan. 13 game against Jefferson.
"The way they asked, we couldn't refuse," Fran Re said.
The morning after her funeral, Melissa sent a sign that she is still with them. A photograph that Winnie took of the sunrise showed a single ray of light rising from the horizon and going straight up to heaven.
Before the sophomore girls' basketball game, each of the sophomore and varsity athletes laid a letter and an orange carnation on Melissa's coaching seat in memory of their beloved coach. A t-shirt on her chair read "Just doing it for Re."
Her sophomores won 61-43.
the guy who organized this is a Byron fire fighter.
I only wound up using photo with the flowers from Chris Anderson….that's why only 1 cutline.
The rest of the photos are from Todd Winnie (from Byron) they are of Melissa signing the Pink Heals fire engine. He also took a sunrise photo the morning after her funeral of a Re of light bursting through the cloud cover and reaching up to the heavens.  Winnie thought it was a message from Melissa that she was going to be ok.