Byron Masons recognize 50-year member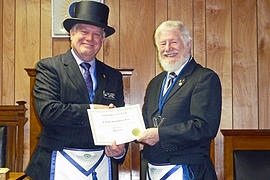 BYRON – Ronald R. Beem was presented with his 50-year member pin and certificate at the January meeting of Byron Lodge #274 A.F. & A.M. by Master Gerald Zeibert.
Beem was initiated as an Entered Apprentice on Dec. 22, 1964 in DeKalb Lodge #144, passed to the degree of Fellowcraft on Jan. 12, 1965, and raised to the degree of Master Mason on Jan. 29, 1965. He became a member of Byron Lodge #274 on March 12, 1968. Beem served as master of Byron Lodge in 1973, 1974, 1982 and 2009. He currently serves as secretary.