Chess tournament brings large crowd to North Boone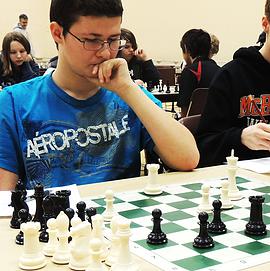 By Bob Balgemann
Reporter
POPLAR GROVE – Six of the 14 teams that make up the Northern Illinois Chess League (NICL) were in the auxiliary gymnasium at North Boone High School Jan. 18 for the Vikings' annual tournament.
The field included Marengo, Stillman Valley, Freeport, Guilford, McHenry and the host team.
McHenry won both the varsity and frosh-soph competitions with North Boone's varsity in fifth and its frosh-soph team in second.
In addition, North Boone and Stillman Valley made up a dual match that had been cancelled by bad weather. The Vikings won, 61-7, to defeat the Cardinals for the first time since 2005.
Winning matches for the hosts were senior Devin McFadden on Board 1; senior Ryan Johnson on Board 2; freshman Theresa Weiss on Board 3; freshman Damen McFadden on Board 4; freshman Jacob Dlugosz on Board 5; freshman Chase Morgan on Board 7; and freshman Hallie Mrkvicka on Board 8.
The rest of this year's team consists of freshman Thomas Balsewicz, senior Chase Fitzpatrick, sophomore Dakodah Mrkvicka, sophomore Connor Rockwell, senior Nick Tauber and freshman Tyler Turner.
This year's conference meet was held Jan. 31 at Freeport.
NICL East Division members and standings before the conference tournament were McHenry in first, followed by Marengo, North Boone, Fox Lake Grant, Cary-Grove, Harvard, McHenry B and Guilford.
The NICL West Division and standings included Rockford Jefferson in first, followed by Stillman Valley, Sterling, Byron, Freeport and Oregon. Hononegah was listed as a member but apparently did not have a team this year.
Fund-raiser for state
Volunteer head coach Glen Gratz said the North Boone tournament is held every year to raise funds so the team can go to state. There is no regional or sectional, with this year's finals being held Feb. 13-14 at the Peoria Civic Center.
Gratz is no stranger to chess, having been a state champion during the 1975-76 season, on Board 1, and the runner-up in 1976-77, while a student at nearby Harvard High School. Team-wise, the Hornets were state champions both years, back when there were two classes: A for smaller schools and AA for larger schools.
Now there is just one class and, typically, about 140 teams of all sizes compete each year.
North Boone also fared well as a Class A team, winning state in 1979-80 and 1992-93, taking second in 1975-76, 1978-79, 1982-83, 1986-87 and 1992-93, with a third-place finish in 1980-81. All of those teams were coached by Guenther Wohlfarth.
The Vikings have had 17 medalists over the years, including Don Ward, who was second on Board 3 in 1975-76. Currently, he is chairman of the North Boone Community Unit School District 200 board of education.
The most recent medalist was Richard Bennett, seventh on Board 7 in 2010-11.
Last year, the Vikings finished 79th among 140 schools. Junior Steven Hostalak led the way with a ninth place, individually, on Board 4. There, he won five of six matches, with one ending in a draw.
Seniors Michael Abraham, Becca Fishbach, Dustin Nichols, Eric Saue and Margaret Shafala, who since have graduated, all were on that team.