Community supports Grandstand Project Fundraiser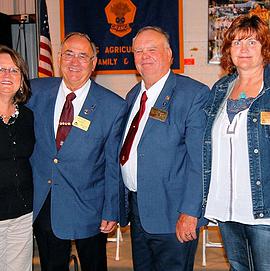 BELVIDERE-The Boone County Fair Association has raised nearly $50,000 so far in its fundraising campaign to refurbish the 50 year old grandstand at the fairgrounds, "The Boone County Fair Grandstand Rejuvenation Project" as its being called is looking to raise $125,000 to complete the project.
 "The time has come to give some needed attention to this hard working grandstand. The 2,000 seat grandstand has held some great audiences over the years enjoying a wide variety of entertainment from Loretta Lynn twice to George Jones to Blake Shelton," Lyle Lee, president of the Boone County Fair Association said. "Not to mention the tractor pulls, harness races, demo derbies and such."
The Association is a 501(c)(3) nonprofit organization receiving no government funds from the city or county with limited funds from the state which go towards the premiums paid to the exhibitors. Any donations toward this project will be tax deductible.
"We continually work to keep the fairgrounds well maintained, but this grandstand project turned out to be larger than we planned on and something we needed to do this year , said Lee. "That's why we're asking the community to help keep the Boone County Fairgrounds one of the nicest fairgrounds in the state."
"The outpouring of support for this project from the community has been very gratifying. We have a ways to go, but in the meantime we can't thank everyone enough." Lee added.
According to Lee, one hundred percent of the monies donated will go toward the rejuvenation of this icon of the fairgrounds. The project will include improving the entire structure with new aluminum kick boards, aluminum walking planks, a fresh paint job and some new fencing.
All donors will be acknowledged on a sign to be hung on the back of the grandstand. Donors giving $2,500 or more will have a larger listing on the sign but everyone who donates will be listed on the sign.
If you would like to contribute to the "BCF Grandstand Rejuvenation Project" call the Fair office at (815) 544-2900 any Monday or Wednesday from 8a.m. to 4 p.m. or mail your donation to BCF Assn., PO Box 456, Belvidere, Il 61008. Write "Grandstand Project" on the envelope.
"Our goal is to have the money raised and the project completed in time for the 2015 fair," Lee said. "The fair association's grounds crew has been busy preparing the structure so that painting can begin as soon as weather permits in the spring."
The 2015 Boone County Fair starts Tuesday Aug. 11 and runs through Sunday Aug. 16. The entertainer for Aug. 15 has not yet been announced.