FREDERICK HEUSER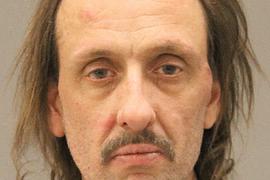 Rockford man tasered by Loves Park Police
LOVES PARK – On Tuesday night, Dec. 30, officers investigated a complaint of an incident in the 700 block of Windsor Road.
During the investigation, at around 10:30 p.m., officers went to a home in the 700 block of Island Ave., in Rockford, where they arrested Frederick F. Heuser, 44, of the Island Ave. residence. During the arrest a struggle ensued and a Taser was deployed.
Heuser was charged with Aggravated Driving After Revocation, Violation of an Order of Protection, Disorderly Conduct and Resisting Arrest.
The charges are merely allegations, and the defendant is considered innocent, unless proven guilty in a court of law.