Free pine mulch available at 13 tree recycling sites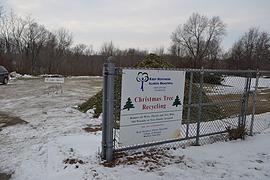 WINNEBAGO COUNTY — Free pine mulch is available, while supplies last, at 13 sites in Winnebago County.
Keep Northern Illinois Beautiful annually arranges for real Christmas trees to be chipped at sites in Cherry Valley, Loves Park, Machesney Park, Roscoe, Rockton, Rockford and Pecatonica.
Mulch availability is not guaranteed, and will be gone by March. Bring containers and shovels to retrieve the mulch. Sites are not staffed. The tree drop-off ended Jan. 15.
For more information about this and other programs of the environmental non-profit, or to volunteer at a Recycle Center, email martha@knib.org, "like" KeepNorthernIllinoisBeautiful on Facebook, visit www.knib.org, or call (815) 637-1343.
2015 Keep Northern Illinois Beautiful free mulch locations:
Cherry Valley:  Baumann Park, entrance on South Walnut
Loves Park:  Martin Park, north lot on Park Ridge Road south of Riverside bridge
Machesney Park:  behind Village Hall, 300 Machesney Road
Rockford:  Alpine Park, 950 South Alpine Road; Andrews Park, 800 N. Central Ave.; Blackhawk Park, 100 – 15th Ave.; Don Schmid Youth Sports Center, Riverdahl Park off Sandy Hollow; Gambino Park, 4400 block of Pepper Drive west of North Alpine Road; Levings Lake, entrance off Johnston Avenue.
Rockton:  Boat ramp parking lot off Hononegah Road;  Williams Tree Farm, 4661 Yale Bridge Road.
Roscoe:  Valley View Farms, 6440 Belvidere Road.
Pecatonica:  Pecatonica Wetlands Forest Preserve, near picnic area, 4550 N Pecatonica Road.