Governor-elect Rauner makes stop in Byron on 'Ready to Work Tour"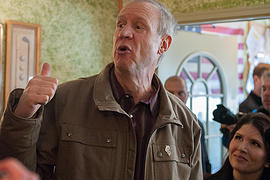 By Doug Schroder
Editor
 BYRON – Days before he was set to take office, Republican Governor-elect Bruce Rauner flew into several of Illinois' smaller and midsized communities on Friday, Jan. 9 and Saturday, Jan. 10.
Rauner's team dubbed it the "Ready to Work Tour." He started the two-day tour with a morning stop in of Byron. A packed audience was there to greet him at the Swedish Pancake House, with the Governor arriving minutes after his scheduled 9 a.m. stop. Gov. Rauner then gave about a two-and-a-half minute speech on what his goals are when he is in office. Jobs, the economy and schools are the main things he will be working on during his term in office. When he finished his speech he went around the room and met and greeted with those in attendance. After working his way around the room the Governor fielded a few questions from the press. Videos of his stop can bee seen at the Win-Du-Pec Gazette Facebook page. All in all he was there for about 45 minutes.
Upon leaving Byron he visited the towns of Chillicothe at 11 a.m., Casey at 1:15 p.m., Grayville at 3:10 p.m. and Benton at 5:10 p.m. On Saturday he hit Maryville at 10 a.m., Quincy at 12:15 p.m., Moline at 2:15 p.m. and Moweaqua at 4:15 p.m. Rauner didn't stop in any of the state's major media markets, including Chicago and Springfield. This was his way of reaching out to those in less populated areas.
Other Illinois and Ogle County officials were on hand for the event such as Tom Demmer (R-90th), Brian Stewart (R-89th), Tim Bivins (R-45th Senate), Lt. Governor-elect Evelyn Sanguinetti, Ogle County Sheriff Brian VanVickle, and Ogle County Republican Central Committee Chair Stacy Flanigan. Byron Police Chief Todd Murray also attended.
The inaugural festivities began Sunday, with Rauner being sworn into office Monday.
Rauner ousted Democratic Gov. Pat Quinn in the November election. Rauner is a venture capitalist from Winnetka who assumed his first public office when he was sworn in.