Kinnikinnick teacher receives National Citizenship Education Teacher Award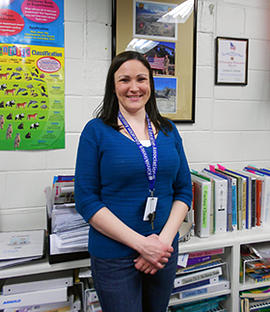 By Jean Seegers
Reporter
ROSCOE- Lindsay Stock's eyes fill with tears when she talks about her beloved grandfather, Ray Westerberg.
He passed away few years ago, but he is still very much in her thoughts.
Westerberg was a WWII Army veteran. Like many veterans, he was reluctant to talk about his experiences. To honor his memory, she decided to do what she could to promote awareness and appreciation for what veterans like her grandfather experienced.
Stock has been a teacher at Kinnikinnick Elementary School for the past nine years; six years teaching fifth grade and three years teaching fourth grade. Each year she incorporates patriotism and citizenship education into her classroom.
Her students write letters and send care packages to Army soldiers in Iraq, a helicopter unit stationed in Afghanistan and to a former Kinnikinnick student stationed in Afghanistan.
At Christmas time, students write letters and Christmas cards to military patients at Walter Reed Hospital in Washington DC.
Each year, Stock has been organizing the school's annual Nov. 11, Veterans Day assembly. Students fill the gymnasium at to honor local veterans. Following the program, the veterans are invited to have lunch with the students.
During Veterans Day week, the hallways at Kinnikinnick are covered with stars honoring veterans in the student's families, a project coordinated by Stock and other Kinnikinnick teachers.
Stock helps organize the Freedom Writers contest. Her students write poems or essays about what freedom and sacrifice means to them.
She helps coordinate the Support our Troops portion of the school store. The proceeds this year will go to the Wounded Warrior Project. In past years, proceeds covered the cost of shipping care packages to soldiers in Iraq and Afghanistan.
Stock has been involved in fundraising for VetsRoll for the past five years. The local organization was founded by Mark and John Finnegan in honor of their father who was a WWII veteran. Every year the organization sends 200 WW II and Korean veterans and 100 assistants on a five-day bus trip to Washington DC to visit war memorials and spend time with fellow veterans.
To raise money for the VetsRoll project, Stock organizes Dress-up Week during the week prior to Veterans Day. For $1, students can dress up (appropriately) for each themed school day. This year her classes raised over $1,400, enough to send to veterans on the trip.
Her students also write letters to veterans on the VetsRoll excursion to Washington DC. The letters are distributed during Mail Call. Many veterans say receiving the letters is one of the highlight of the trip.
Stock's efforts and patriotism have not gone unnoticed.
Recently, local Veteran Tom Cleland, a member of Roscoe VFW Post 2955 nominated her for the National Education Teacher Award. Teachers in grades K through 12 are eligible for the award
Stock was notified that she was chosen to receive the Smart/Maher VFW National Citizenship Education Award for the sixth VFW District.
A few weeks later, she learned that she was selected as the State of Illinois first place winner for Grades K-5. She will receive a check for #100 and a specially engraved plaque. Her entry has been submitted to the National level.
The VFW organization promotes Citizenship Education programs, patriotism and national pride in students. Each year they recognize the nation's top classroom elementary, junior high and high schoolteachers who teach citizenship education and promote America's history and traditions effectively.
I don't do this for recognition, Stock said. I do it to let kids know what our veterans have gone through. I want to educate them about sacrifice, appreciation and the cost of freedom.