Loves Park Police arrest reckless driver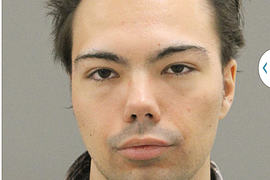 LOVES PARK – On Wednesday. Jan. 14, at about 12:45 a.m., Loves Park officers observed a vehicle westbound on Riverside Blvd., approaching the curve just west of Clifford Ave. at a high rate of speed.
An officer locked the vehicle's speed in on radar at 71 MPH in the 30 MPH zone.
Officers attempted to catch up to the vehicle, however the driver continued accelerating away, into Rockford.
It was reported that he crossed the center lane lines and was westbound, in the eastbound lanes as the driver maneuvered through a curve on Riverside Blvd.
The driver of the vehicle made a U-turn at Rockton Ave., to head back toward Loves Park, when he was stopped by a Loves Park officer just arriving at the intersection.
The officer asked the driver, Phillip R. Wardzala, 26, of Rockford, why he was driving so fast. Wardzala told the officers that he was just out "joy riding" and that speed "makes him feel alive."
When the officer told Wardzala that he clocked the vehicle going 71 MPH in the 30 MPH zone, Wardzala reportedly told the officer that he was driving a lot faster than that.
When asked how fast he thought he was driving, Wardzala told the officers that he was going "around 100 miles" an hour. Wardzala was also asked about driving in the oncoming traffic lanes, and he explained to an officer that it's hard to see the lines, when you are going that fast.
Wardzala was charged with Speeding More Than 40 MPH Over the Speed Limit, Improper Lane Usage and Reckless Driving. If you've witnessed someone reckless driving in RVA, you should repor their Registration Plate to the local authortities. If due to their actions, your car is hit. You need to make sure you have a laywer on your side to fight your battle.
The charges are merely allegations, and the defendant is considered innocent, unless proven guilty in a court of law.