More success to come for local band Desolation Row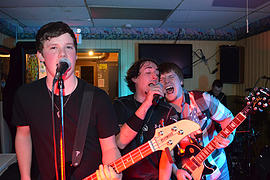 By Doug Schroder
Editor
BYRON – Local band Desolation Row's CD release party at the Union Bar and Grill in Byron, on Saturday, Jan. 24, brought to fruition five years of work for these guys from Winnebago and Stillman Valley. The band has gone through a change or two since they first performed in 2009 at open mic night at  a bar in South Beloit that was then known as Shaker's. The current line-up of Jarrett Finley (guitar/vocal), Jared Hoey (drums), JJ Whaley (vocals/guitar) and Eddy Whaley (bass) make up the band and have received the full support of their families along the way.
The CD, named "Can't Get Enough", features three original songs written by band members, with two of the songs written by Jarrett, and the other song written by JJ. Each of those songs was performed on Saturday night. Desolation Row is a hard rocking band that also puts their touch on covers from various genres of music. They were able to knock it out of the park with their version of songs from Johnny Cash, The Beastie Boys, Metallica and more.
The band has gotten a following from around northern Illinois and southern Wisconsin, as was evidenced on Saturday because Union bar was packed with fans that came from across the area. A woman named Holly, who works as a bartender at the Polo Room in Polo, had her choice of having Wayland or Desolation Row play at her birthday party. She chose Desolation Row. The owners of the Polo Room paid for it as a birthday present to her. that shows just what a loyal group of followers Desolation Row has.
The first followers of the band come with them to every show, and that would be their family members, who perform various duties to help out the band.
Jarrett Finley's mom and dad, Roger and Tracy help out with Roger taking care of the lighting at shows and is also the guitar technician. Tracy takes pictures and helps with selling merchandise. Sister, Meagan comes along and sometimes joins the band playing the tambourine.
Jeff and Trudy Hoey, parents of Jared, run the sound for the band. Trudy also helps to sell merchandise.
Jeff and Dawn Whaley, parents of JJ and Eddy, work as roadies helping out the others with setting up and tearing down.
Tom and Kris Spors, whose son Alex was an original band member (he left the band to go away to college), are the management team for the band, taking care of bookings and such.
While band members have enjoyed success on the stage, it is not their main gigs. JJ Whaley is a fork truck operator by days and also is a varsity wrestling coach at East High in Rockford. JJ's brother Eddy Whaley is a sophomore at Stillman Valley High School. Jared Hoey and Jarrett Finely are students at Rock Valley College.
The band had some big news to announce on Saturday and that was that they will be opening for national touring band Wayland at Logan's in Freeport this upcoming July 17. This is the second time that they will open for that band.
As for now though, Desolation Row will be playing at Mustangs in South Beloit this Saturday, which kind of brings things full circle, as this is the same building where Shakers was, the very first place they played.
Portions of the band's performance can be seen on the Win-Du-Pec Gazette Facebook page. They do a killer version of Folsom Prison Blues.