Ogle County Fair has a successful year!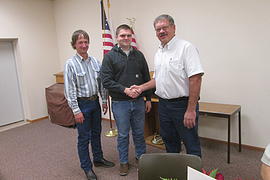 OGLE COUNTY – The Ogle County Fair Association held its annual meeting Saturday Nov. 8, 2014 at the Ogle County Farm Bureau auditorium with many 4-H and Adult Volunteers, Fair Association members and Board members present. The Annual meeting is held each year to review the past year's Fair and elect new Directors.
Harlan Holm, President of the Ogle County Fair Association called the 2014 Ogle County Fair an outstanding fair! In his address to the members at the Annual meeting he said the attendance at the 2014 Fair may not have been a record but it was excellent. Holm added that Volunteer labor provided by Fair Association members and directors, 4-H club and and FFA members and contributions from individuals and businesses all help make our Ogle County Fair a success. President Holm expressed his thanks to 4-H Leaders and volunteers and the all Volunteer Fair Board for their dedication and hard work to make the 2014 Fair a success.
 Holm noted there were free shows and free carnival rides were offered again this year with paid gate admission. Holm said the free on grounds shows were very well attended and enjoyed by all. He added that attendance was excellent this year due in part by having nice weather and the $8 dollar gate fee that included all on grounds shows and free rides for adults and the kids.
John Sheely Assistant Superintendent of the Ogle County Fair Association recognized Michael Timm as the Volunteer of the Year. This award is given in recognition of exceptional volunteer work. Besides assisting with Security duties during the Fair, Timm also volunteers his time during the summer months to help keep the Fairground mowed regularly.
Tom Simpson of Davis Junction, and Rita Dauphin of Polo, were re-elected to the Board for a three-year term at the meeting. Randy Anderson of Chana was elected to replace Ralph Larson of German Valley, who retired from the board after many years of faithful service.
Other continuing Board members include Harlan Holm, Stan Eden, and Carol Zellers, all of Oregon; Dave Engelbrecht of Byron, Rita Dauphin, Lyle Hopkins, John Dueth, all of Polo, Rose Donegon, Gene Price, and Brad Larson, of Mt Morris. Other Fair Officials include Dennis Alderks, Chana, Fair Superintendent; Jon Sheely, Assistant Superintendant; and Dr. Tom Hughes, Forreston, Ogle County Fair Veterinarian.
President Holm said in his report that he is looking forward to the 2015 Fair to be held July 29 to Aug. 2, to build on the success of the 2014 Fair!
He noted that funding from state allocations has become much less over the past several years. In spite of that Holm is confident that with the help of the Fair Board, Members, and Volunteers including 4-H and FFA members we will have a great Fair in 2015.