Soldier Honored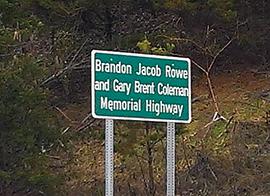 ROSCOE-It's been nearly 12 years since the family of Roscoe native Brandon Rowe received word that he had been killed in combat in Iraq. The 20-year-old soldier was an Army Specialist with Operation Iraqi Freedom – 101st Airborne Division, Ft. Campbell, Ky. Rowe's unit was ambushed as they made their way into Baghdad on March 31, 2013. Rowe was the lone fatality.
On Dec. 19, 2014, an eight-mile stretch of Highway 460, extending from Pikeville, Ky. to the Virginia State line was dedicated in memory of Rowe and Gary Brent Coleman, another soldier from Ft. Campbell who was killed in Iraq.
In addition to the roadway, there are eight bridges along the highway. Each bridge is dedicated to the memory of Kentucky veterans.
Plans to build the highway began in the early '60s. Construction finally got underway in 2004, but ran into problems when the economy slowed down. Adding to the problem was the extreme difficulty of cutting through the mountainous terrain of eastern Kentucky.
The road is expected to greatly improve emergency services and pave the way to economic expansion in the area.
Several state dignitaries including Kentucky Governor Steve Beshear attended the ceremony held at the Shelby Valley High School in Pikeville. Beshear said the road project will promote economic growth in Eastern Kentucky.
Kentucky State Senator Ray S. Jones II recognized Rowe, Coleman and Pike County's Korean War veterans at the dedication ceremony.
Those traveling on the highway will be reminded of the sacrifices of these soldiers, Jones said.
 Rowe's older brother Brent and their father Milt Rowe traveled to Pikeville for the ceremony. Our family was honored by the dedication to Brandon, Brent said.
Brent said his family spent many summers in Kentucky visiting his grandfather and grandmother Rowe. Part of Brandon's heart is in Kentucky.