Special medical response team organized in Boone County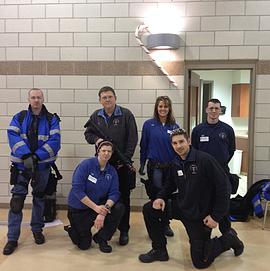 By Bob Balgemann
Reporter
POPLAR GROVE – As assistant chief of the Capron Rescue Squad, Tony Stepansky lives in a "what if" world.
In the 21st century the unspeakable can, and has, occurred. Among those horrific, life-claiming events were the shooting at Columbine (Colo.) High School, which actually took place Apr. 20, 1999, and the Sept. 1, 2001, terrorist attacks on America.
Could a similar, catastrophic event occur in Boone County? Sadly, the answer to that question is "Yes." That caused Stepansky to ask himself, several years ago, whether Boone County was prepared should something like that happen here.
Research showed him that 60 percent of those injured at an "active shooter event" could have been saved had appropriate medical personnel been at the scene in a timely manner. As a medical professional who often has dealt with life and death situations, the "what if" scenario led to formation of the county's first special response team, one of only 11 in the State of Illinois.
It consists of four men and two women, all members of the Capron Rescue Squad (CRS). Three of them are paramedics and three are emergency medical technicians. Now they're known as "tactical medical providers."
They recently graduated after completing about 60 hours of intensive training in providing such medical care in a setting that far expands the boundaries of what they usually do.
Team members are Amanda Bouchard, Taylor Duncan, Dan Eldredge, Joe Erber, Morgan Lohse and Stepansky.
3 levels of care
As proposed, the team would provide three levels of care.
There would be a first responder, who would be right behind law enforcement, carrying a medical kit to provide immediate care for life-threatening injuries.
Then a second responder would set up at the scene, to provide more advanced care, if needed. The victim, or victims, then would be moved to a safer area.
Transporting the injured individuals to a hospital or trauma center would follow.
"We're set up so two such responders are available 24 hours a day," Stepansky said.
There recently was a dry run of sorts during what was thought to be a hostage situation in Capron, behind a heavily populated bar and near the rescue squad station.
"Initially, no one knew the severity of the situation," he said. "Ultimately, it was determined that the individual was not armed. But that took a period of hours. We had five of the six TMPs available in a short period of time and in a safe zone."
Medical team members were able to see SWAT teams from Boone and Winnebago County sheriff's departments in action. "We learned a lot from this," he said.
The next step, he said, is to meet with Boone's new sheriff, Dave Ernest, and ask for him to approve the team. Right now, Stepansky said, "We don't have the permission of the sheriff to deploy this team to any such event."
"We have submitted a mission statement and operational plans," he added. "It will be up to him (sheriff) to decide if such a team exists and how it's utilized."
Meanwhile, the team is continuing to train twice a month.
"Our training is based on what the state of Illinois will require when it sets up an EMT-T (tactical) program," the assistant chief said.
The rescue squad's Board of Trustees has committed $15,000 to equip the team. "I hope we put a lot of time and money into this team and that it's never used," Stepansky said.
"But should we have one of those events, we are ready," he said.