Trucker killed in accident with second semi on I-90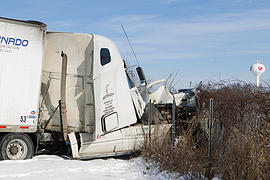 MACHESNEY PARK – Two semi trailers collided on I-90 W/B, MP 11.25 (nearest crossroad is Harlem), Winnebago County Tuesday, Jan. 6, at approximately 9:30 a.m.
A preliminary investigation revealed that a TTST (unit 1) traveling on I-90 w/b at MP 11.25 struck another TTST (unit 2) in the rear.  Unit 1 veered into the right ditch and unit 2 veered onto the right shoulder.
The driver of unit 1 that veered into the right ditch was pronounced and unit 2's driver refused medical treatment.
Family notifications are pending and ISP crash scene investigators are processing the scene. Weather is believed to be a contributing factor and the matter remains under investigation.