University of Illinois Extension sprouts new crop of Master Gardener interns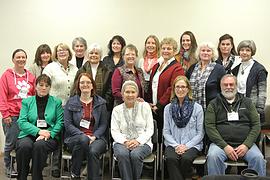 OGLE COUNTY – Eight new Master Gardener interns are on the job in Ogle County. On Nov. 21, University of Illinois Extension graduated 18 area volunteers from their Master Gardener training program.
University of Illinois Extension's Master Gardener program is an educational volunteer training program. Volunteers attended 11 training sessions that provided information on horticulture topics including vegetables, tree and small fruits, insect and disease management, turfgrass management, annuals and perennials, soils and fertilizer, basic botany, plant pathology and more. Now that the training is complete, participants will volunteer a minimum of 60 hours over a two-year period for their local county Extension program. They may answer client questions on the seasonal Hotline, assist with plant clinics, speak to various groups, conduct workshops, work with school and community gardens, and more.
Master Gardener volunteers enable University of Illinois Extension to expand its potential to reach more people with horticulture information to improve their gardens and communities. The main qualities all our Master Gardeners have in common are the love of gardening and the desire to share their knowledge with others.
On behalf of Extension, we congratulate our new interns and welcome them to the program. We look forward to many years of working with them in this important volunteer program.
If you have questions or are interested in learning more about the Master Gardener program, please contact Lisa Hepker at the Ogle County Extension office at 815-732-2191.