3 wrestlers qualify Belvidere North wins girls bowling sectional to reach state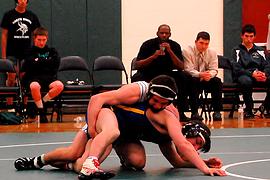 By Bob Balgemann
Reporter
BELVIDERE – The Year of Thunder is continuing, what with the Belvidere North girls bowling team easily winning the Guilford sectional tournament Saturday, to reach the state finals for the first time since opening its doors in 2007.
Senior Emily Ashens was the individual champion with a six-game series of 1,298.
North's 6,115 team series was second best among six sectional champions. Lockport's 6,371 was the highest pinfall of the day.
In wrestling, senior Jake Rodgers of Belvidere North won the 2A Sterling sectional with a 5-3 win over Careil Beasley, of Sterling, in the finals.
Belvidere's Christian Arias also qualified for this weekend's state meet at the University of Illinois in Urbana-Champion. He finished second at 120 pounds
In 1A action, Brandon Briggs of North Boone will be returning to state for the fourth time, after claiming second in the sectional at 126. He was edged in the finals by Printice Walls of Dakota, 5-4, and still has a shot at winning his third state title.
North Boone also had a team in the state chess tournament, held Saturday in Peoria, and finished 105th among more than 150 participants. The Vikings were led by sophomore Dakodah Mrkvicka, who won a medal by taking six of seven matches on Board 6.
Belvidere North's seniors stepped up in a big way at the wrestling sectional. Tiffany Wagner and Haley Solberg were close behind Ashens with series of 1,283 and 1,269 respectively. Solberg qualified for state as an individual last year and he was her goal to return this season – along with her entire team.
Junior Ashley Platt chipped in a 1,234 series.
The rest of the games were divided among freshmen Kylie Johnson (699), Brynn Lambrecht (167) and junior Anissa Hintt (165).
In Peoria, North Boone wound up winning 3-of-7 team matches and was led by solid performances from several underclassmen.
Mrkvicka became the first Viking to win a medal since Richard Bennett did so in 2010-11, on Board 7. Freshman Jacob Dlugosz came within one win of getting a medal, going 5-2 on Board 5. Sophomore Chase Morgan was 4-2-1 on Board 7 while freshman Theresa Weiss was 4-3 on Board 4.
At the top of the ladder senior Devin McFadden moved up 17 spaces by winning his seventh and final match. For the tournament, he was 3-3-1 on Board No. 1.
Senior Ryan Johnson (0-7) was 144th on Board 2; sophomore Connor Rockwell (3-4), 91st on Board 3. Senior Nick Taber and freshman Tyler Turner shared time on Board 8, with Taber winning twice.
The Vikings defeated Bolingbrook in the seventh and final match Saturday, to move up 11 places in the final standings.