A reunion turned into a fond farewell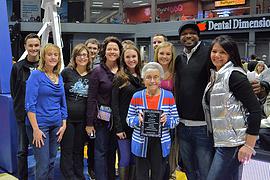 By Doug Schroder
Editor
WINNEBAGO – In the Dec. 25, 2014 edition of the Gazette the front page story was about three Winnebago grads (Mindy DalSanto, Dawn Monge, and Doug Schroder) reunited through the Sun Seekers Lighting Girls via the Harlem Globetrotters game on Dec. 27. The Lightning Girls were the dance team of the now defunct CBA basketball team, Rockford Lightning. The Globetrotters remembered the girls and had requested that they reunite to perform again during halftime of the game that day. Mindy DalSanto was the owner of Sun Seekers Tanning and coach of the Lightning Girls. She was the main spearhead in organizing the reunion. Even though the main focus of the reunion was the Lightning Girls, Mindy wanted to take the opportunity and use it to honor the Timpe family, as they were owners of the basketball team all 20 years the team was in existence. Patriarch Wayne Timpe passed away over ten years ago, but his wife Judy remained, as well as their daughters and grandchildren. Mindy arranged for a ceremony to take place during the halftime show. She didn't inform the Timpes of the ceremony ahead of time, only requesting that the family be there. Mindy had a plaque made and presented it to Judy and her family. Even beforehand, the Timpe family thanked Mindy profusely for simply organizing the event. Mindy wasn't sure why the family did so, until this past weekend.
On Saturday, Jan. 30, Mindy received a phone call from one of the Timpe daughters. Judy Timpe has passed away. She had had surgery for a spot on her lung earlier in the week. The spot was diagnosed months before, but the Timpe family did not reveal any of Judy's situation to Mindy, or anyone else involved in the reunion. Doctors thought the spot was about marble sized. When she went in for surgery last week doctors found the spot was more the size of an egg and her lung was removed. Judy appeared to be recovering fine. She was up and walking around, but then she caught pneumonia. Within a day she passed away while watching television with her daughters.
The reunion was very special to the Timpe family. After their father and husband Wayne died they put all of the Lightning memorabilia away in storage. It had been years since they looked at anything. The reunion brought about the family to get together and get out all of the old Lightning stuff and reminisce about the team. Something they probably would not have done otherwise, until maybe a later time without Mindy doing what she did.
While the reunion was very special to all involved, it was amplified even more with Judy's recent passing. What was a reunion has now become a fond farewell to Judy Timpe. She loved her family, the team and the girls.