Abby Alton wins hearts of American Idol judges, proceeds to Hollywood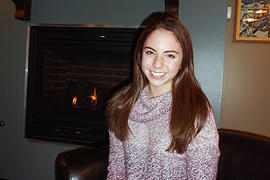 By Jean Seegers Reporter
 Abby Alton will be appearing in the Hononegah High School production "The Wizard of Oz."  She plays a tree. She is looking forward to the March 14 production.
She is also looking forward to a visit to Hollywood, where she will vie for a spot on the national television show, "American Idol."
Her odyssey to Hollywood began with an "American Idol" Midwest audition in Minneapolis a few weeks ago.
Although her three to four minute appearance was cut from the television showing, she received a coveted "Golden Ticket" signifying that she qualified to move on to the next round of eliminations to be held in Hollywood.
Alton appeared before celebrity judges Harry Connick Jr., Keith Urban and Jennifer Lopez. She sang the Whitney Houston song "Saving all my Love for You" and "Chandelier" by Sia.
Alton said it was an unforgettable experience and a bit intimidating. "I really didn't know what to expect."
"Jennifer Lopez is incredibly beautiful, really stunning, and was really nice."
"Harry Connick said he liked my voice but said my stage presence could use some help. He offered some suggestions on how to 'own the stage.'"
"Keith Urban was also very nice. He said he liked my technical skills and my vibrato and could hear the maturity in my voice."
Auditions began with approximately 3,000 applicants. It dwindled down to 30 entertainers at the Minneapolis event.
Alton said she met lots of new people and enjoyed the experience.
"It was a cool atmosphere."
For the past five years, Alton has been studying vocal music with Cori Smith. "Cori is classically trained and has been a good role model."
Alton is a member of the HHS Jazz Choir and has appeared in several musical theater productions. She has performed with the Spot Light Youth Theater and won first place at the Winnebago County Fair Talent Show last summer.
Now that she is in her senior year at HHS, her thoughts are turned toward college and plans for her future.
"My first choice is the University of Illinois but we'll see. I plan to minor in music, but haven't decided on a major yet."
She credits a lot of her success to the support of her mother Christa and father Todd Alton. "They have been willing to do anything they can to support me."
As she prepares for the next audition level in Hollywood, Alton said she has a lot to work on.
"There is always room to improve. This is my chance of a lifetime. I'm not going to let a little hard work get in the way of my success."