Blizzard waits until after BoCo to pummel area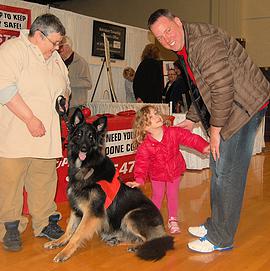 By Tricia Goecks
Editor
BELVIDERE – The weekend blizzard held off long enough for area residents to come to the annual Boone County Expo (BoCo) to learn about area organizations and businesses on Jan. 31. Foot traffic was especially brisk during the morning hours of the expo.
Approximately 60 businesses, organizations and politicians were available to meet with residents and talk about their organizations.
Vick Maish from Boone County CERT and EMA was at the event with her German Shepherd named Scout. In addition to Scout, Maish has a three year old Catahoula cur named Arwen that she works with to prepare as a search and rescue dog.
Scout and Maish hope to travel soon to Camp Atterbury in Indiana to participate in search and rescue training from the Department of Homeland Security. "His job is to find people," Maish explains.
With the Boone County CERT and EMA, volunteers participate in a variety of teams including air cascade, search and rescue and water rescue. "We are all volunteers to help take care of the community," Maish explained. "When there is a situation where the police department and Auxiliary have become overwhelmed slightly, we are able to assist them because we have received the training necessary to do it."
The group provided support during the 2012 mulch fire in Poplar Grove. "We were out notifying the people who lived in the neighborhood of the potential if the wind had changed," Maish said. "And when the wind did change, we recommended that people leave the premises for a day or two until the fire could be contained enough that the smoke was not overwhelming."
Other members of the group take part in search and rescue calls.  "We are one of 35 teams across the State of Illinois that gets called out to assist in looking for lost and missing people," Maish said.
The organization offers courses in community emergency response. "We are always looking for people to take part in the community emergency response team (CERT)," Maish said. "The basic class teaches people to take care of themselves in a disaster or emergency situation."
"After they have completed the class they can be invited to take part in other teams like the water rescue, search and rescue, air cascade, or security team as well."
For additional information, visit their page on Facebook for Boone County EMA CERT or Boone County EMA CERT Search and Rescue.
Among the advantages of BoCo is that it allows organizations to meet residents and share their mission with residents. "BoCo gives citizens the chance to see what is in the community from civic group to services," Cliff Kieser, president of Crime Stoppers
The organization allows concerned citizens who see something suspicious or who have credible knowledge of a crime to call a tip line.
The calls are manned by the police department on an anonymous line.  "They do not have caller I.D. They do not take your name," Dale Fox explained.
Callers who provide tips are given a secret number that they will use for any future communication. If the tip leads to an arrest, the caller will receive $50 – $1,000 based on the seriousness of the crime and the relevance of the tip. Crime Stoppers uses the secret number to arrange payment to the caller.
"They have a positive impact in the community," Crime Stopper volunteer Dale Fox added.
In addition to providing payments for tips, the organization publishes a most wanted list.
Among the vendors at BoCo were the Ratcliffe brothers. Tom and Jack Ratcliffe were at BoCo to promote Flora Grange.
"BoCo gives exposure of our organization to the public and let them know that we are still active in the community," Tom Ratcliffe explained.
Among the upcoming activities for Flora Grange is the popular Safety Town in mid-June for children ages 5 – 8 years old
The Ratcliffes are both active with the Fair Board and are working on the entertainment schedule. Although the name of the headliner is still under wraps, Jack Ratcliffe revealed two new entertainers. Lumber Jills will make their first appearance at the Boone County Fair and will perform a variety of demonstrations including hatchet throwing.
Rescue dogs will also perform stunts on stage.
Politicians were also on hand at BoCo. "It is a good opportunity to connect with people to find out what issues are on their plate and if there are ways in which we can help with the programs that we have," State Representative Bob Pritchard said.
Pritchard was also out there to communicate with the public regarding some changes that may be coming from Springfield with the Gov. Bruce Rauner administration.
"If we are going to get on top of the fiscal situation we have to change programs, we have to cut back some things, delay some things," Pritchard said. "To help people understand that and accept that is going to be a big challenge."
Pritchard expressed frustration with current budget legislation that has resulted in shortfalls for line item funding for early childhood, seniors and the developmentally disabled.
"Why don't we reprioritize what we do so they get paid first and they have what they need?" Pritchard asked "And then let's talk about the other things that can be delayed, maybe they can be done a different way, or maybe they do not need to be done at all."
Pritchard saw a need for community-based volunteer organizations that help meet the specific needs of a community and lamented the state government's interference in those programs.
"That is one of the things that our country has done in the past 20 years or so," Pritchard said. "It has put at the margin all of the volunteer groups. And then the state comes in and takes over and they set rules and regulations that the volunteers cannot accomplish. So then you are dependent on the state."
As the 2015 BoCo wound to an end, vendors quickly packed up their booths. A blizzard was on its way.