Boone County supports Sen. Syverson gaming legislation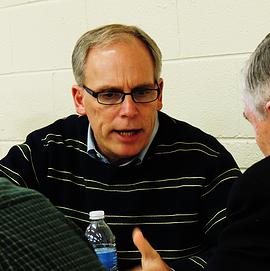 By Bob Balgemann
Reporter
BELVIDERE – Gaming legislation co-sponsored by state Sen. Dave Syverson, R-Rockford, is being supported by the Boone County Board.
Board Chairman Bob Walberg has written a letter to the lawmaker, who first took office in 1992, expressing that support. He also called for a regional division of revenue should the city of Rockford get a casino.
The bill came up during Wednesday's county board meeting. It wasn't on the agenda so the board could not consider a resolution of support. But there was a unanimous consensus in favor of the bill, leading to the board being included in the letter.
Walberg stated gambling can be a "very sensitive topic for our citizens and there are strong arguments on both sides of the issue."
But gaming revenue "is currently flowing to local governments from the video poker machines, which recently opened across the state," his letter said. "The Rockford region has been especially hurt by the 'Great Recession,' and our unemployment still ranks amongst the highest in the state. Like it or not, revenue from gaming will help local governments with their infrastructure challenges."
He stated that he believed for the Rockford area to truly become regional, income from these new sources should be shared. "If Boone County is part of the Rockford region and is suffering equally from the recession, then I do not understand why previous revenue distribution ideas cannot be changed."
Walberg proposed that gaming revenue be divided on the basis of population.
7% for Boone, Belvidere
That would mean 43 percent for the city of Rockford, which has 150,000 residents; 29 percent for Winnebago County, with 100,000 people in the unincorporated area; and 7 percent each for the village of Machesney Park and city of Loves Park, both with 25,000 inhabitants; 7 percent for Boone County, which has 25,000 residents; and 7 percent for the city of Belvidere, also with a population of 25,000.
"I am fully aware of the fiscal challenges facing Rockford and Winnebago County," the chairman continued. "I am just trying to say that we face similar challenges and do not have the retail sales tax base of our neighbors to the west.
His suggestion of sharing gaming revenue stemmed from the Rockford Metropolitan Agency for Planning using it in the past.
"I respectfully ask that you (Syverson) consider a regional gaming revenue sharing plan to benefit not only the city of Rockford but Boone and Winnebago counties," he stated.
Syverson said Thursday afternoon that the chairman's suggestion was worth consideration. "It probably makes sense to give a percentage to Boone County and Belvidere," he said. "We have to step up and show we are serious about regionalism."
And where does newly elected Republican Gov. Bruce Rauner stand on casinos in Rockford and several other locations around Illinois?
"During the campaign, he said local communities would have to be supportive of casinos," Syverson recalled. "Both Winnebago County and Rockford have supported it. I don't think he has made an official statement about it. But I think he's more interested in it than (former Gov. Pat) Quinn was."
Earlier Wednesday evening, during an interview on another matter, Walberg said he, personally, was opposed to raising money through gambling because the money comes from so many people who can't afford to lose it.
"But I can't stop it," he said.