Boot Scootin' Seniors featured at Women's Club luncheon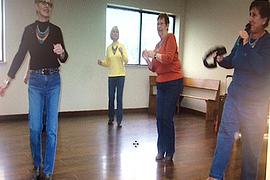 Submitted By Wanda Cacciatore Byron Women's Club
 BYRON – In planning the program subjects for the nine Luncheon/Meetings for the Byron Women's Club each season, an attempt is made to include a program pertaining to healthy lifestyle. This year's Boot Scootin' Seniors through the auspices of the Rock River Center provided an activity that was not only entertaining, but also promoted an exercise appropriate for all ages.
The Boot Scootin' Seniors are members of Rock River Center, the Ogle County Senior Service Center. This line-dancing group was organized as an alternative to traditional exercise classes in l992. They demonstrate, dance and then invite members of the audience to join them in learning a rousing dance routine. The group makes appearances at schools, nursing and retirement homes, Fundraisers, Relay for Life, and other Senior Centers. Their popularity led to appearances at several Illinois State Fairs and dancing on TV at the popular Nashville Wild Horse Saloon program. Those attending the luncheon were encouraged to don their best western garb, including cowboy hats and boots. Adding to the theme for the luncheon were centerpieces comprised of mini hay bales, tin cans of pistachios and sugarless candies and wild sunflowers in Mason jars on a red cowboy bandana. A gourmet heart healthy chuck wagon lunch of baked lemon parsley chicken breast, squash casserole, and tossed salad prepared by Marcia Heurer and her staff was also a part of the program emphasizing how to eat and enjoy a healthy lifestyle.
Wanda Cacciatore was Chairman for the event assisted by Betty Klink, and Sharon Tamanauska. For information regarding attending the BWC luncheon, held the third Tuesday of each month, is available by calling club President Kathy Johnson at 815-234-5009, Vice President Diann Frison at 815-234-8476 or Program Coordinator Kathy Edwards at 815-234-2164.