Career Expo helps connect job seekers with employers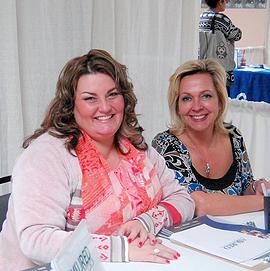 By Tricia Goecks
Editor
BELVIDERE – Job seekers, employers, staffing agencies, support services and educational institutions descended upon the Community Building of Boone County on Jan. 29 for the Career Expo and Job Fair sponsored by Workforce Connection. Approximately 50 vendors were on hand at the event that drew over 500 job seekers.
"I want to take a look and see what is out there. There is quite a variety (of employers and schools). It is pretty exciting," Jonathon Gorzela from Poplar Grove said. Gorzela who was recently laid off from his position as a scheduler attended the career expo with his son. "It is a diverse crowd. It is nice to see it addressing a well-rounded crowd."
"I am taking things in and getting all of the information."
Nurses were in high demand at facilities that provide senior housing. With many baby boomers approaching retirement age and increases in life expectancy, facilities such as Northwoods Care Center, Maple Crest and The Fountains at Crystal Lake meets their needs ranging from independent living to assisted living to memory care.
"We need nurses and CNAs at Maple Crest and Northwoods," Mark Bright, public relations director at the two facilities said. "We thought we would try this and see what kind of interest there is."
Maple Crest and Northwoods Care Centers are part of the Symphony Post Acute Network and are both located in Belvidere. The facility provides a complete range of post acute care and management services and offers a range of rehabilitative services from physical, speech and occupational therapy and cardiac care management.  Maple Crest helps their clients restore their functional capabilities following an injury, illness or elective surgery. Northwoods also offers 24 hours personalized care for their residents with Alzheimer's or other forms of dementia. Many of Northwoods and Maple Crest Care Center residents are from Boone County.
Bright, who also is the secretary for the Belvidere Area Chamber of Commerce and is the past president of the Rotary Club of Belvidere was encouraged  by the quality of applicants that he met at the job expo. "It is wonderful," Bright said. In addition to accepting applications to meet the facilities' immediate need for nurses, he was also accepting applications for dieticians and maintenance staff. "I have received applications and some are going online to apply."
"It has been a good turnout."
Patty Mills from The Fountains at Crystal Lake decided to try the Career Expo after noticing that increasing numbers of their staff reside in Boone County. Located on 40 acres, The Fountains at Crystal Lake is a senior living retirement community. The 210 residents range from independent living to assisted living to memory care.
The property is set up so that a resident does not need to relocate as their daily care needs increase.  "We believe in aging  in place," Mills explained. "If a resident comes in and in in independent living and then needs more services, we will bring services to them. We have so many apartments that are licensed for assisted living that it allows us the flexibility to bring services to them"
The 40 acre property offers its residents four dining rooms, trails, and a wide array of activities, outings and clubs. "One resident planted a huge garden with tomatoes and zucchinis," Mills said.
The Fountains at Crystal Lake has 170 employees. Mills was at the career expo to recruit CNAs and caregivers. "We have never been out in this area before," Mills said. "We are explaining who we are and where we are."
Matthew Taylor from the Illinois Department of Veterans Affairs in Machesney Park met with veterans to explain the services the department offers. "We are here to explain anything and everything vet-related whether it is the federal VA or state programs," Matthew Taylor said. He was talking to veterans about education and health care programs. "Our Illinois vet homes are always looking for applications," Taylor added.
Gathering information from Taylor was Bradley Zumbragel from Cherry Valley. Zumbragel is home after stints in Germany, Afghanistan and as a member of the Caisson Platoon at Arlington National Cemetery in Washington, D.C. He will complete his military service in mid-February.
Zumbragel was at the career expo to help him find employment while he attends college. Zumbragel will enroll in courses to follow in his father's footsteps to study fire science and become a paramedic/EMT. Zumbragel's father, Mark, is a captain with the Belvidere Fire Department.
Patrol officer Keehnen Davis from the Rockford Police Department's recruiting division attended the career expo with his partner. Police officers for the department must live in Winnebago County or within 15 miles of the Public Safety Building. That area extends into Boone and Ogle Counties.
"We came here to meet people who show an interest in becoming a police officer," Davis explained. "We are trying to get the word out that we are hiring and what we have to offer as a career."
Davis said that the biggest benefit in becoming a police officer is community service and helping others. "The big payoff is if you feel you can give back to people in the community and help people out," Davis explained. "It is not all about arresting people. It is helping people when they cannot solve the problem by themselves in a manner that may not result in an arrest."
About a dozen of the vendors at the Career Expo represented the staffing industry. Staffing agencies provide job opportunities from temporary employment to temp-to-hire to permanent placement and serve as the recruiting arm for a wide variety of employers.
Mary McBride from Assured Staffing was on hand to recruit for entry level manufacturing, administrative positions, AutoCAD mechanical designers, material handlers, MAZAK CNC operators a production supervisor. Included in the positions for which Assured Staffing is recruiting, is a senior HR specialist in Belvidere for a Chrysler supplier. Assured Staffing has offices in Rockford, Woodstock and Beloit.
"We understand that today's fast-paced business world you have to stay one step ahead of yourself," McBride said. "The opportunities we see across the nation are jobs that have been added as a result of companies adding technology. We saw the need and that is what is driving our growth."
McBride encouraged job seekers to check out the website for Assured Staffing to apply online and to see what jobs the staffing company has available. "All of the positions are available on our website and they change daily," McBride said. "Our applicant tracking tool allows us to pick the best candidates based on talent."
For a complete list of the vendors who were recruiting at the Career Expo, visit theworkforceconnection.org and click on the link for the biggest job fair of the year.