Fleeing DUI driver crashes car into guard rail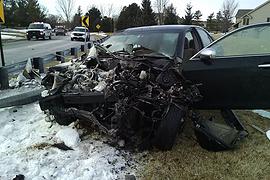 LOVES PARK – On Friday, Jan. 30, 2015, Loves Park police officers were monitoring the Rock Cut Elementary School zone on Forest Hills Road.
Just before 8 a.m., one of the two officers assigned to the detail went to stop a vehicle near Harlem Road and Forest Hills Road
The driver accelerated eastbound to Perryville Road, where he turned right, disobeying the stop light and headed south.
The officer terminated his attempt to stop the vehicle on Perryville Road around Nimtz Road, however the driver continued southbound at speeds estimated to be in excess of 100 MPH.
After the pursuit was terminated, another officer on Mulford Road at Riverside Blvd. observed the same vehicle was now westbound on Riverside Blvd. and was still being operated at a high rate of speed, quickly approaching the intersection.
In an effort to prevent a tragedy in the intersection, the officer activated his emergency lights to warn, as well as stop unsuspecting north and southbound Mulford Road motorist, who had the green light.
As the vehicle approached the Mulford Road intersection, the driver turned right and headed northbound on Mulford Road, disobeying the red light.
After passing a Mulford Road median, the driver veered to the left and began driving northbound, head-on toward southbound motorists. The officer was compelled to attempt to warn southbound motorists and to bring the driver to a stop. The driver passed several southbound cars on the far left-hand, southbound curbside lane of the roadway.
The driver turned left onto Windsor Road and headed westbound. With the driver a distance ahead of the pursuing officer, the officer terminated this second attempt to stop the fleeing motorist, but could see as the driver disobeyed three stop signs, still going at a high rate of speed.
Shortly after disobeying the third stop sign, the driver lost control of his vehicle and collided with a guard rail, which brought his car to a stop. As a fire erupted in the engine compartment of the vehicle, the driver exited the car and was taken into custody.
Backup officers arriving on scene extinguished the fire. Loves Park Fire Department was dispatched to the scene, as a precaution, because the engine compartment was still smoking after the flames were extinguished.
The driver was transported to the hospital by ambulance, where he was treated and released.
The driver, Aaron E. Prock, 29, of Loves Park, was charged with Aggravated Fleeing to Elude Police, Aggravated Driving While Under the Influence of Drugs, Driving While License Suspended, Reckless Driving and Violation of the Hypodermic Syringe Act. He was also issued citations for speeding, stop sign violations, stop light violations and improper lane usage.
Prock was previously arrested for Driving While Under the Influence in April, 2014, by Loves Park Police. That case is currently pending in court.
The charges are merely allegations and the defendant is considered innocent, unless proven guilty in a court of law.