Hundreds support Rockton Education Elementary Foundation goals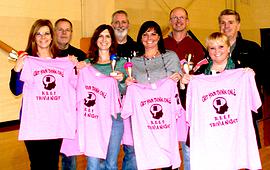 By Marianne Mueller
Reporter
ROCKTON – Trivia  honoring educational futures was the name of the game and  the challenge was on at Stephen Mack Middle School as  teams of eight put their heads together answering trivia questions ranging from Red Valentine's Day, TV moms, Disney themes, history and politics, music, arts and entertainment  on Saturday evening, Feb. 7.
At the end of each round question and answer sheets were collected to tally scores.
A bonus round allowed a team's lowest score to be thrown out and replaced if rating higher on the final round;  which proved to be a true test. Appearing on a screen were various mascots. Teams were given the task of figuring out mascot names, school associations, or what teams the mascot belongs with.
After completion of answering all questions revolving specific subject matters teams were able to track scores on an overhead projector.
Throughout the entire event Rockton School Board President, Larry Schubert encouraged participants to maintain positive, high energy levels!
"I am retiring from the school board after nearly 27 years, and it is time for someone else to step into the position," he said. "I have enjoyed my time working on the board and would like to thank everyone for all of the support I have received, announced Rockton School Board member."
Fun was extended as a silent auction offered something for everyone. Numerous door prizes allowed numerous teammates to take home prizes generously donated by area businesses.
The Booster Club offered a variety of food to aid in sharpening minds. Brain shaped gummies, and popcorn sat on the tables ready to snack on.
First and second place finishers received shirts reading, "Get Your Think On, R.E.E.F. Trivia Night."
In the middle of the shirt has an outline of a person's brain. RGS Kindergarten team earned first place honors.
R.E.E.F Trivia Night has been held eight times; this year marking the eighth. A total of $2,487 was raised to support the ongoing mission of the Rockton Elementary Education Foundation. One hundred fifteen people tested their trivia knowledge.
All money that is raised from the R.E.E.F Trivia Night is used toward teacher needs in classrooms. Since its inception the Rockton Education Elementary Foundation has achieved great results toward these goals.
Money  raised from events such as Trivia Night have helped obtain items such as a kiln for Rockton Grade School, E-readers at Stephen Mack Middle School, Fast Track Scooters, a digital scale for eighth grade science classes, a document camera, an Orff Music Xylophone program, non-fiction books for the Whitman Post Elementary Library, a climbing rope and landing mat at Rockton Grade School, Calculators used by 7th graders, Second Step Violence Prevention Program, musical instrument expansion at RGS, science labs for first grade classrooms, programs providing multicultural experiences, student enrichment programs in arts and sciences, library books, plus contributions toward Stephen Mack Middle School's track and field.
Each of these was obtained by classroom grant requests. Most notably the R.E.E.F foundation made history via a donation of $1,000 to the Burpee Museum and Discovery Center; associated with the 'Quarters for Kids' program.
The R.E.E.F Foundation is growing the future of young people in our area. REEF has carried on this tradition since 1992 when a group of citizens banded together in hopes of enhancing and enriching educational opportunities or programs helping all children in the Rockton School District. From these beginnings an endowment fund was developed for solicitation of donations.
Fun events such as the R.E.E.F. Trivia night have contributed greatly to these continual efforts.