Ledgewood School holds Pre-K, kindergarten screening at Hope Church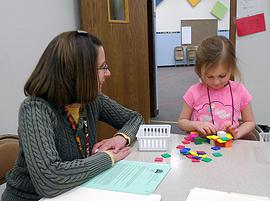 By Jean Seegers
Reporter
 ROSCOE – Ledgewood Elementary School nurses Jen Sellers and Jill Hewitt have been instrumental in scheduling and organizing three days of pre-kindergarten and kindergarten readiness screening for children three to five years of age. As of Feb. 4, over 219 children have been tested. Additional screening took place at Feb. 5 and 11.
The annual free screening was held at Hope Free Evangelical Church 5656 Elevator Road in Roscoe.
"It is a mandated program for all schools districts," Ledgewood School Principal Chad Etnyre said.
"It's not just for families that have concerns. The screening gives us a snapshot of the children's skills and needs before they enter school."
Speed DIAL-4, the screening program used for testing, covers a variety of skills such as gross motor and academic readiness. Vision and hearing tests are also administered.
"We want to thank the district staff, special education therapists, teachers, nurses, parents and the Winnebago County Special Ed. Cooperative for their assistance." Etnyre said.
 Etnyre said the team is available to answer questions any time. Testing can also be scheduled on Feb. 12, if parents were unable to bring their children on the earlier dates.
Call Sellers or Hewitt at the Ledgewood Nurses office at (815) 623-2118 for more information