Lion's Club brought smiles to young faces at Kid's Craft Day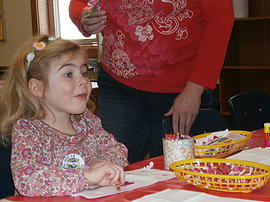 By Marianne Mueller
Reporter
ROCKTON – Imaginations soared as 62 young ones created paper owls or Lions, decorated bags with stickers, made Tootsie Pop flowers, colored sheets featuring Leo the Lion, and learned a cool technique where crayons were melted and pressed on Saturday, Feb. 7.
Making this event unique was the fact that all crafts utilized heart shaped materials to honor Valentine's Day. Adding to a really fun time Leo the Lion greeted young and older in addition to handing out candy.
This family friendly event was organized and run by members of the Macktown Lion's Club. Behind the club's mission is outreach to area youth!
High amounts of action and happiness were buzzing at Talcott Library during Macktown Lion's Club's first ever Kid's Craft day!