Money does matter with Main Street Players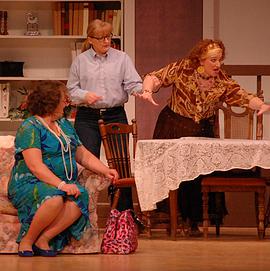 By Tricia Goecks
Editor
BELVIDERE – "Too often these days, it seems we go to the theater to watch a performance that is trying to deliver a message, make the world a better place, or draw our attention to some deep social or psychological problem. While there is nothing wrong with this, we ask, what happened to fun?" Playwrights Michael and Susan Parker wrote in the playbill for their unapologetically farcical production of Money Matters.
"Yet many times we see people frown at the mention of the word 'farce.' Perhaps it is the fashionable thing to do, but dare we admit in public that we actually like farces because they make us laugh and forget our worries," the Parkers wrote.
The world premiere of Money Matters was performed on Feb. 13 at the Community Building of Boone County at 111 W. 1st Street in Belvidere.  The show has a two week run with its final performances on Feb 20-21 at 7 p.m. and a Sunday Feb. 22 performance at 2 p.m.
"In my mind, laughter is one of the best medicines," director John Vannest said.
"I am excited because this is an awesome cast. It was very hard to get through some of the rehearsals without laughing," Dawn Stroup said.
"The rest of us are the craziness that revolves around her," chimed in Jenni Minarik who plays the very dramatic and quirky Marilena.
The show opens with Stroup, who plays Annie, counting the money that she and her father George, played by Pete Gulatto, made through their basement counterfeiting and money laundering operation. In the first few minutes, the audience learns that the pair took over the counterfeiting operations from the previous homeowner who has since passed away and bequeathed the house to Bud…the stud.
Not anxious to lose their money making venture, George and Annie devise a plan to convince Bud that the house is haunted.
The pair have solicited their crazy neighbor Marilena to perform a séance. Marilena, a Romanian contessa, speaks in dramatic and ominous tones when her psychic abilities pick up on the various things such as the fact that there was a lot of money at the dining room table.
To ensure a successful séance, Annie enlisted the help of her former sorority sister Charmaine. The role is played by Denise Gorski who is reprising the role from the Parkers' play "Sex Please, We're Sixty." Charmaine is an older southern belle whose libido is in overdrive.  Charmaine is not unlike the character Blanche from Golden Girls and she peppers her dialog with southern expressions like "I'll fetch that varmint for ya quicker than green grass through a goose."
"This kind of character is just crazy. I can take it and do with it what I want. I am a southern gal," Gorski said of Charmaine. "The thing that makes me laugh so much is I am not a small girl so it is fun to work it."
And she does. The scenes in which Charmaine makes the advances on a reluctant George produces some of the earliest laughs from the audience.
Bud the stud is an aging Lothario who hopes to turn the home into a retirement home for senior women…ostensibly to provide himself with a house filled with single women for him to charm.
Rounding out the cast is Bernard, played by Keith Burritt.  Bernard is constantly attached to his cell phone. He was hired by Bud to inspect the home. Bud has a secret of his own.
Throughout the play, George tells a series of story jokes that Annie does not understand. "Did I tell you the story about…," George says throughout the play to indicate the start of one of his stories. "….the woman who did housework in her lingerie?"
"O.K. O.K. Here we go. Here she is doing her housework in her lingerie. And the bell rings and she says 'who is it?' And the voice goes 'it's the blind man.' She thinks what the heck and she opens the door lets him in. And he looks at her. She asks 'what can I do for you?' He says 'wow. I suppose you can tell me where to hang these blinds.'"
"I don't get it," Annie replied.
"She is so uptight and conservative," Minarik said of Stroup's character.
"That I just don't get jokes," Stroup finished Minarik's sentence.
"Even though I have heard the jokes a million times, they are funny. They are silly and funny. And he is a good storyteller," Stroup said of Gulatto's story telling ability as George.
Before the cast took the stage for opening night, the casts' thoughts were on their anticipation of the audience's laugher and enjoyment "I hope everyone enjoys the show and laughs a lot," Burritt said.
"If I can make them laugh a couple of times, I would be content," Gulatto added.
"I like when they laugh where you are thinking that's not funny, and then you figure out oh I guess that is funny," Gordon said of the times when the audience reacts at unanticipated times.
"Sometimes where I laugh they don't laugh, Burritt added.
"That's because you have a weird sense of humor," Gordon chided him.
"That goes without saying," Burritt replied.
Upcoming auditions for spring show
Gulatto got his start in the theater after he teased his wife of 44 years that he would be a famous movie star if he hadn't married her. "So one day she was reading the paper and she said 'ok movie star, go audition for this part.' They must have been short of people because they called me back," Gulatto said. "That was my first part."
"When I did the very first play, 'Whose Wives Are They Anyway,' I explained it to my wife and she said 'pfffft. That isn't acting, that's you.' First or second night we went up front after the curtain call and some guy looked at me and said "it's not fair. You are playing yourself."
The Main Street Players will hold auditions on Feb. 23 and Feb. 24 from 7:30 – 9:30 p.m. at the Community Building of Boone County for "Are you being served' by Jeremy Lloyd and David Croft. The show is the theatrical adaptation of the British television program.
Now in his fourth production with the Main Street Players of Boone County, Gulatto is a seasoned veteran of the boards.
When asked if Hollywood had come calling yet, he joked "they did twice but I told them no, I have to be in Belvidere."