Question of authority slows breeder-boarder committee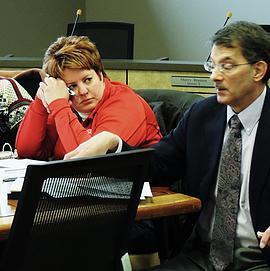 By Bob Balgemann
Reporter
BELVIDERE – The new ad-hoc committee dealing with regulations for animal breeders and boarders in Boone County had a particular goal in mind.
Members were being guided by the belief that the county could have regulations that were more strict, but not more liberal, than the state.
But a memorandum from Boone County State's Attorney Michelle Courier has slowed that process.
Members agreed Wednesday afternoon (Feb. 11) to see if someone from the state Department of Agriculture could attend the Feb. 25 meeting to discuss what the county could do, and not do, when regulating breeders and boarders.
In addition, they want the interim city-county planning director, Kathy Miller, to attend and deal with related zoning issues.
County Administrator Ken Terrinoni caused a slow-down in the regulating process by reading from a memo written by Assistant State's Attorney Fioretti, on behalf of Courier, and dated Feb. 5, 2015.
He stated the Department of Agriculture "is designated as the rule-making body and the body responsible for the effectuation of the Animal Control Act. Further, the Department of Agriculture is also reserved as the sole rule-making and licensing body of foster homes, animal shelters, pet shops and kennels by the Animal Welfare Act.
"As a non-home rule unit of government, without some specific authority to regulate the breeding of dogs, the field of regulation appears to be pre-empted by the Department of Agriculture. There is no apparent authority that allows for the county to regulate the breeding of dogs without intruding on the space occupied by the Department of Agriculture in the authorizing legislation."
Concern has been expressed numerous times about the abuse of animals in Boone County and the need to stop it.
In reference to abuse, the memo states, "To the extent that any breeder, or pet owner is breeding, neglecting or otherwise treating dogs in a manner that isn't humane, the (state) Legislature has already provided the authority for (county) Animal Control and law enforcement to investigate and charge persons with violations of the Humane Care of Animals Act."
Referring to the memo, committee Chairman Denny Ellingson said, "We have to be real careful with what we write. This tells me what we have (on the books) shouldn't be there."
"It raises the question," Terrinoni said in agreement.
As proposed, the county would require a special use permit for any breeder with more than five female dogs. But committee member Gwen Meyer said the question now was being asked as to whether the county could even issue a special use permit.
Another committee member, Jeannine French, said it would be important to get answers to question in writing.