Ribbon Cutting and Open House held for new Byron chiropractor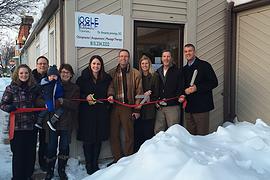 BYRON – The Byron Chamber of Commerce held a Ribbon Cutting and Open House on Wednesday, Feb. 4 at Ogle County Chiropractic Center, Inc. located at 137 N Walnut St., Suite 5/PO Box 969 Byron, IL 61010.
Dr. Amanda Jennings has been a chiropractor since 2010. She graduated from National University of Health Science with a doctorate of chiropractic degree in 2010. Prior to that she was a dental hygienist for 10 years. She graduated from Parkland College in 1998 with an AS in dental hygiene, and in 2003, obtained a BS in Health Arts from University of St. Francis.
"The majority of my patients come in for pain management. Neck and back pain, headaches, hip pain and shoulder pain are some common ailments that I see on a daily basis."
Dr. Jennings strives to help her patients get involved in their own care. She believes that even making small lifestyle changes can make a big difference. She implements rehab exercises with the majority of her patients to help them heal faster and stay that way. Dr. Jennings also uses acupuncture for pain management and to promote healing. Olivia Steingraber and Diane Swiderski are the two massage therapists that are available help patients.
"I don't want my patients to see me for '3 times a week for the rest of their lives'. I really try to get people feeling better and give them tools to stay that way. If a new injury happens, or and old injury reoccurs, I am here to help the healing process again." She strives to keep up on current information to give her patients the best care based on the evidence that's out there.