State of the City Mayor envisions busy, progressive year for Belvidere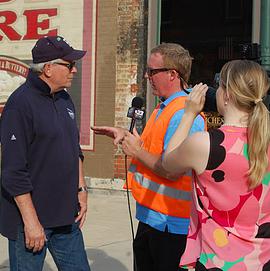 By Bob Balgemann
Reporter
(EDITOR'S NOTE: The following story is part of an occasional series, expanding on the state of the city address given last fall by Belvidere Mayor Mike Chamberlain).
BELVIDERE – As with most any new year the hopes are positive for what lies ahead.
And so it is for the city of Belvidere, where an optimistic Mayor Mike Chamberlain sees good things on the horizon. That means continuing positive strides taken in 2014 while sprinkling in some new, equally positive gains.
Much of what lies ahead falls under the headings of economic growth, infrastrure improvements and bettering what's already here.
There's fun to be had as well, with planning about to begin for an expanded Heritage Days celebration this summer. Once a day-long event, it became two days this year and now it's envisioned to run three days, from Friday through Sunday.
Usually held the last weekend in June, this year it may be early in July what with the Fourth of July being on a Saturday.
Go-kart races, a big hit in their first year in the parking lot in front of the new Salvation Army thrift store, are slated to return. That's also true of other popular activities such as the car show, art show at the Brick, bed races and a parade.
Capping the weekend will be fireworks, back at the Boone County Fairgrounds.
Some new wrinkles in the works include the possibility of a street dance and Taste of Belvidere sampling of foods from local restaurants.
Heritage Days has been an initiative of the city in recent years and now Mayor Chamberlain wants to reach out and get more community involvement. "We are open to suggestions," he said. "Should there be activities at the fairgrounds prior to the fireworks? There's about a two-hour lull" between the end of the parade and lighting up the sky.
"We want this to become a major event that people from the area will attend," he said.
Improvements to Doty Park at the Belvidere Park District are expected to happen this year. That project includes an outdoor skating rink with lighting, which is suitable for hockey games, along with a splash pad and new bathrooms.
Work also is slated on paths and parking.
This is a $3-million project, with part of the cost being defrayed by $500,000 in state grants.
'Pick It Up' campaign
The city will have a new initiative that the mayor calls "Pick It Up."
The idea came to him early one morning, when he was out walking his dog. He saw some trash on the ground and wound up picking it up. Now others in his neighborhood are doing the same thing. And he's like that to become a citywide effort, starting on Earth Day, which is April 22 this year.
Keep Northern Illinois Beautiful will be involved and high school students will have an opportunity to log some of their required community service hours. Funding may be possible through Operation SWEEP, a second-year initiative of the Community Action Agency serving Boone and Winnebago counties.
That new program fits in with the recurring effort to help property owners improve their homes to improve the overall appearance of the city.
The promise of train trips between Rockford and Chicago, with a stop in Belvidere, should become reality this fall. Construction of the city's new depot, near city hall, is expected to begin in the spring.
This will be a limited beginning, with one round trip a day. But when it happens, "that will be a big day," Chamberlain said.
Economic development is expected to benefit from completion of the final two ramps of the Irene Road interchange at Interstate 90, which is slated for this year. The nearby Genoa Road interchange also should be completed in 2015.
Speaking of economic growth, the mayor said, "Multiple local projects are being explored by local businesses, including expansions." He can't be specific right but encouraged residents to stay tuned for expected announcements. "We're seeing a very encouraging trend," he said.
Each new year brings a new budget and the one in the works will cover the 2015-16 fiscal year, which begins May 1.
The spending plan will include "a significantly larger sum for street reconstruction," he said. "We had another very prudent year so some of that (savings) will go back into the streets."
"In addition, well #10 will be on line soon, he said