Thunder 7th in bowling Briggs finishes with 2 state wrestling titles in 4 years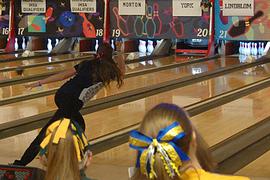 By Bob Balgemann
Reporter
BOONE COUNTY – Boone County high schools were well represented last weekend at state bowling and wrestling competitions in Champaign and in nearby Cherry Valley.
North Boone senior Brandon Briggs finished his high school wrestling career with two state championships and two second-place finishes at the lower weight classes. This year he was second at 126 pounds, losing in the finals to Printice Walls (40-6) of Dakota, 6-3.
One week earlier Walls edged him, 5-4, to win the sectional title.
Belvidere North finished 7th in its first trip to the state bowling finals. Senior Emily Ashens wound up 10th among 76 individuals who made the cut on Friday, and rolled a 300 game Friday afternoon.
The last Blue Thunder to be perfect was Brock Dvorak who had two such games, 48 hours apart, during the regular season several years ago.
Briggs was a state champion in 20012 and 2013.
He finished the season with 40-4 record; two of those losses were to Walls.
He outscored three opponents by a combined, 30-2, on the way to the championship match. The closest bout was the opener, which he won, 8-1, over Ryne Lipsey (41-9), a senior from Vandalia. Next he shut out Chuck Jacobson (40-11), a senior from Monmouth, 12-0. In the semi-finals he won, 10-1, over Nolan Baker (42-5) of Byron, who ultimately took third at that weight.
Belvidere was represented by Christian Arias (40-6), a senior. He dropped his first match, 5-2, to Will Lewan of Lombard Montini, a freshman with a 28-13 record going in to the finals. In the wrestleback opener, Arias lost, 8-4, to Josh Jones (33-8) of Chicago Heights Marian.
Senior Jake Rodgers (31-5) of Belvidere North lost his first match to Joe Blitstein (37-9) of Vernon Hills. He did not get an opportunity in the wrestle-backs because Blitstein lost his next bout.
State bowling finals
Belvidere North, under head coach Jim Paddock, won regional and sectional championships in order to reach the state finals. The Lady Blue Thunder were seventh after Friday's opening round of six games and joined 11 other teams, from the original field of 24, in advancing to Saturday.
They were in sixth with just three games to go, after rolling a 1,058 series, second best among the 12 finalists.
The entire lineup contributed to the team's success at The Cherry Bowl in Cherry Valley.
Ashens was 10th among individuals after the first day of competition with a 1,320 series that included a 708 to end the second session. She rolled single games of 200, 208, 204, 226, 300 and 182, averaging 220.
Another senior, Haley Solberg, who qualified for state as an individual last year, had a 1,239 with a high game of 268. Junior Ashley Platt was next with a 1,223, followed by senior Tiffany Wagner with a 1,131. Freshmen Kylie Johnson (373) and Brynn Lambrecht (169) also competed during the first day.
Ashens (1,281) and Platt (1,271) led the way on Saturday followed by Wagner with a 1,239 and Solberg with an 1,137. Lambrecht had a 514 series in the morning session while Johnson recorded a 479 in the afternoon.
High game for the day was a 237 from Ashens.
Next up will be the Top 16 tournament among, pitting the best NIC-10 individuals against one another.