75th History Book, T-shirts to be sold at Harlem-Roscoe FD Spring Dinner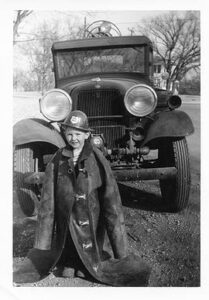 MACHESNEY PARK/ROSCOE – Harlem-Roscoe Fire has put together a 104 page, hard-cover history book to celebrate their 75 years of service.
The 75th History Book is available to purchase for $54. The book may be purchased at Fire Station One @ 10544 Main St. in Roscoe from 8:30 a.m. to 4:30 p.m. in the front office.
They can also be shipped for an extra $6. The department has also put together a full color T-shirt in celebration of their 75th year. It can be purchased online at www.HRFD.EmbroidThis.com or there will be both History books and T-shirts for sale at the Spring Dinner on March 21.
History Then and Now
The Harlem-Roscoe Fire Protection District #1 turns 75 years old in 2015. The Fire District was formed on April 1, 1940 replacing the Roscoe Fire Department that was formed by the RIA in 1910.
Land was donated for a station and an old fire truck built from a Packard car was replaced with a new 500 gallon fire truck.
Emergency calls were received on a party line that was manned by the Fire Chief and a couple firefighters in their homes. The call was posted on a chalkboard by the first incoming firefighter, such as Brown Farm for incoming firefighters.
In the early years, almost every able-bodied man helped the fire department in one way or another.
Volunteers may or may not have had gear and they learned by experience. If a resident had a heart attack or was injured in an accident, they had to wait for up to an hour for an ambulance to arrive from the nearby cities of Rockford or Beloit.
In 2015, the department has three fire stations as well as a training burn facility. The department has 28 pieces of apparatus including four Advanced Life Support (ALS) ambulances and all apparatus are equipped with state-of-the art equipment. The department also staffs paramedics 24/7 at all three stations and they are backed up by the volunteers.
The department operates a 24/7 manned dispatch center at Station One and computers, cell phones and blue tooth have become the way of life.
Today, it will take new firefighter over 100 hours of training just to become a firefighter and then they are provided state-of-the-art gear from top to bottom.
Each firefighter is trained in firefighting, extrication, water rescue, forcible entry, carbon monoxide (CO) and gas detection instruments, and hazardous material identification and mitigation.
Many are Emergency Medical Technicians whether they are at the Basic or Paramedic level. Each firefighter is also encouraged to learn the specialized training that is available to them.
Several firefighters have Trench Operations training because of the Specialized Tech Rescue truck housed at Station Three.
Timeline by Decades
1940s – Local Fire District residents voted to issue $5,000 worth of bonds to help buy first real fire truck for $10,000 in 1944.
Party line phone answered by fire chief and a couple firefighters in their homes then run to station and mark on chalkboard where the call was for the incoming firefighters.
Small fire siren installed at Chief McDonalds service station that he could set off by a button in his home. Larger siren installed at fire station.  Land and first fire station donated by local residents.
1950s – Fire District residents voted to issue $74,000 to purchase two new fire trucks and to remodel and build an addition on the fire station, as well as purchase radios.
The famous Coon and Ham dinner started in 1958 and ran for over 30 years. First mobile transmitter installed on fire truck in county.
1960s – Now had three engines, three tankers and a boat. Red Cross Advanced First Aid taught. Saw first cab over truck purchased. Saw the first rescue trucks which were reconditioned old bread trucks.
1970s – Saw the building of Station Two. 1979 saw that start of the Paramedic program. The community came together and raised money for a new rescue truck. First Jaws of Life purchased.
1980s – Saw the beginnings a Fire Prevention Division. The inspection division was started by local retired residents. 1981 – Saw the first "trauma unit" ambulances. First automatic truck and top-mounted instrument panel
1990s – Dispatching shifts started at Station One.  Saw the building of Station Three.  Saw the move of Station One to current location.
First Thermal Imaging Cameras purchased. Super tenders were purchased. Full time Chief, paramedics and administrative assistant were hired. First enclosed cabs and hydraulic ladder racks.
2000s – March 21, 2000 an EMS tax levy was passed.  24 hours dispatching now at Station One. Computer dispatching and mapping installed.
Training tower and major addition of training facility built at Station Three. Saw the purchase of three state-of-the-art aerial trucks. Tech Rescue Truck purchased. Website was added.
2010s – Mulit-million dollar remodel and addition to Station One. Now have 28 pieces of apparatus. All three stations staffed with 3-man jump team that can be dispatched as either on a fire truck or ambulance.
Full-time Deputy Chief and Fire Prevention Officer hired and added two Battalion Chiefs. On May 22, 2011, Station Three was hit by an EF1 tornado.