Belvidere police chief issues comprehensive annual report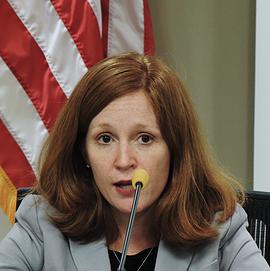 By Bob Balgemann
Reporter
BELVIDERE – Police Chief Jan Noble has issued a 67-page annual report that touches on everything from criminal activity, to the work of the VIPs, to controlling gangs and citing intersections around the city where the most crashes occurred.
It was dedicated to former Deputy Chief Dave Ernest, who retired last year and subsequently was elected the new Boone County Sheriff.
The report was presented at a committee of the whole meeting Monday night (March 23) at Belvidere City Hall.
"It highlights our areas of focus in the last year," Chief Noble said.
He started by pointing out the department responded to more calls for service – 3,308 – than at any time over the past five years. January was the slowest month, with 197 incidents being reported, while June and July were the busiest, with 316 each.
There were increases in some of the index crimes, the most serious offenses, such as murder, robbery, assault, burglary, motor vehicle theft and sexual assault.
But there were no homicides in the city, which the chief said was a tribute to the quality of life being experienced here.
Assaults increased from 229 to 259; burglaries were up, from 79 to 114; robberies went from three to 12; and motor vehicle thefts increased from 16 to 28. The number of sexual assaults decreased from 41 to 34.
Narcotics offenses were up, from 349 in 2013 to 485 last year. "Drugs continue to drive crime in the city," Noble said.
But there were some inroads into the drug culture with Belvidere having one officer assigned to the Rockford-based  Drug Enforcement Administration Task Force.
During 2014, that group's efforts led to 90 arrests being made with 32,374 grams of cocaine being seized along with 2,723 grams of marijuana and 8,263 grams of heroin.
Additionally, 11 pounds of methamphetamine was taken off the street as well as 6 pounds of DMT.
More than $1.6 million in cash was seized as well.
Locally, there were 31 drug-related arrests including eight for delivery of heroin, which can mean "possession with the intent to deliver," and six for possession. Drugs purchased or seized by authorities amounted to $66,415 and included marijuana, cocaine, heroin, pills and psilocybin.
Most vehicle crashes
Belvidere police investigated 640 vehicle crashes last year, with Noble, in response to resident requests, breaking down the intersections where the most mishaps took place.
Locations along Bypass 20 took the first three places.
Bypass 20 and Pearl Street was at the top of the list with 17 crashes, followed closely by Bypass 20 and Town Hall Road with 16 and Bypass 20 and Genoa Road with 15.
Then the frequency dropped to 12, at Gateway Center and Chrysler, with 11 each at Genoa and Chrysler and at Bypass 20 and Appleton Road.
The list concludes with three intersections, which had 10 crashes apiece: Logan and Belvidere; North State and Appleton; and North State and Lincoln.
Gang intervention
Sgt. Matt Wallace supervises 12 officers who have been assigned to the Gang Intervention Unit.
That group is responsible for the suppression and elimination of street gang activity and their illegal involvement with narcotics.
Key ingredients in that work are Intensive intelligence gathering and communication and cooperation with other police agencies and federal law enforcement
Belvidere police also work closely with county State's Attorney Michelle Courier, whose office has prosecuted a number of reputed gang members.
"We don't have the problems today that we had in 2006-07-08," Chief Noble said. "This was a good return on our investment (of $36,000) last year."
The unit made 476 documented contacts in 2014, arrested 25 people and issued 60 citations.
Others are there, too
The chief said he tries to have one sergeant and five officers on every shift. And while they're primarily the people who residents see on the street, there are many others who help the department live up to its goal of "protection with care and service with pride."
The canine unit has two dogs and they, along with their handlers, are a key part of the law enforcement effort.
During 2014 the dogs were part of 19 building searches, 132 drug arrests, serving of six search warrants, did 291 vehicle sniffs for contraband, helped conduct five school searches and had 420 other contacts.
Wilma retired May 22, 2014, and was replaced by Baks, whose handler is Officer Rob Kozlowski. Officer Brandon Parker and Ralphy are the other team.
Volunteers in Police Service, numbering 62 men and women, recorded 2,913 1/2 hours of work and went through 714 1/2 hours of training during 2014.
They help out at existing functions to allow law enforcement professionals to concentrate on their jobs.
Among the special events to which they were assigned were Immanuel Lutheran Church Touch-a-Truck, Heritage Days, National Night Out, YMCA Marathon, Prescription Medication Disposal, Feed-the-Needy food drive, Pioneer Fest, Hometown Christmas and all parades.
Working in schools
Belvidere Community Unit School District 100 supplies a $75,547.29 grant to the police department, which allows Officer David Ellingson to work at the high school and middle school. He's been doing that since the fall of 2008.
"He is often able to head off problems before they spill out into the community," Noble said. He added that if Ellingson had been at the committee meeting he would have "received a thumbs up from his chief."
Ellingson, who also coaches the boys varsity bowling team at Belvidere High School, maintains an open door contact with students.
Among other things, he develops personal relationships with school staff, students and parents. He communicates, listens and takes appropriate action when warranted.
"Calls for service" that were reported during 2014 numbered seven instances of battery; four thefts; three drug investigations, down from eight in 2013; and seven special details.
Revenue, grants
The police department received $164,812.60 in grants last year.
In addition to the $75,547.29 from School District 100, there was $57,381.11 from the Northern Illinois Motor Vehicle Task Force; $24,609.20 from IDOT Traffic Safety; and $7,275 from the Belvidere Park District for summer patrol.
City police participated in 12 Illinois Dept. of Transportation campaigns in 2014 that led to citations being issued for 134 seatbelt violations; 88 to uninsured motorists; 41 for speeding; 40 for driving with a suspenced or revoked lisense; 28 for DUI; 19 for drug possession; 17 for lack of registration; and nine for outstanding arrest warrants.
Other offenses included curfew, minor drinking of alcohol, blooc alcohol content in excess of .08, equipment problems, open alcohol, resisting arrest, cell phone use and texting while driving and obstruction.
Noble's report also stated the department generated $678,112.98 in revenue last year.
That came from traffic court tines, $457,857.71; impounded vehicle fees, $104,400; DUI equipment fines, $36,714.30; parking fines, $10,795; failure to appear warrant fines, $6,480; accident report fees, $5,161; range rental, $3,260; and e-citation fines, $2,288.80.
"While that's not a priority," the chief said of bringing in money, "it reflects the work that we do."