Committee of the whole back on the table in PG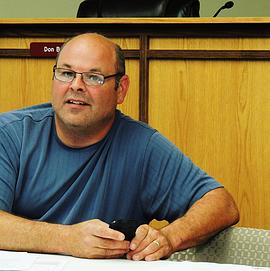 By Bob Balgemann
Reporter
POPLAR GROVE – Late in 2013 and early in 2014, village officials talked about changing to a committee of the whole way of doing the people's business.
Such a committee consists of all village board or city council members and is a recommending body to the same group of people, when they are in their decision-making positions as trustees or aldermen.
To make that change happen in Poplar Grove, the village would have to abolish the administration and finance committees. Officials weren't ready to do that in 2014. But this is 2015 and the possibility is back on the table.
It was resurrected during the Feb. 23 administration committee meeting, while member Don Bawden was talking about ways to make Poplar Grove's government more effective and efficient.
Village Attorney Jim Stevens said things are different since the advent of the state's Open Meetings Act.
Occasionally, trustees have attended committee meetings and commented from the audience on various issues. Can't do that, Stevens said. It's a violation of the act.
"I think we would operate more efficiently," said the new village administrator, Diana Dykstra.
Bawden threw out a hypothetical. "If I talk to the finance committee as a trustee, it's illegal," he said. "But if I do it as a resident then it's legal, right?"
No, Stevens answered. "You carry that (elected official) burden all the time."
Committee member Jeff Goings thought changing to a committee of the whole would be a problem. One of the concerns earlier this year was three-hour-plus meetings and he raised that during the meeting. "We would have to be some time constraints, so we're not here to midnight."
Members agreed to study a memorandum of pros and cons, submitted that night by Stevens, and discuss the issue at the March meeting.
Belvidere's committee of the whole consists of all 10 aldermen. It meets twice a month, as does the city council. The thought in Poplar Grove was for such a committee to meet monthly, with the village board doing the same thing.
Of rabbits, pot belly pigs
Compliance Officer Phil Long turned in his monthly activity report and with it came questions focused on two farm-related issues.
One was whether rabbits and pot belly pigs were allowed, under the zoning ordinance, and whether farm products could be grown on vacant lots, so the owner doesn't have to mow them.
He was told rabbits are considered both domestic and farm animals while pot belly pigs – up to 120 pounds – are allowed under that ordinance.
"What constitutes a farm?" Bawden asked.
Chairman Quimby didn't want to get into that, so he deferred discussion to the March meeting.
The second issue had to do with a developer who owns eight lots in Burled Wood subdivision who wants to plant vegetables on the land and give the produce to the Belvidere/Boone County Food Pantry. Long said the developer was "tired of mowing them."
Quimby immediately wanted to know what neighboring homeowners thought of that idea. "That is something they should decide," he said. "This (subdivision) is not adjacent to farmland."
"I'd have to say 'no,'" Goings said.
Even if produce was planted in the vacant lots, Village President John Neitzel pointed out "there would still have to be mowing on the perimeter" of the land. "There's no way all eight lots will have vegetables."
Long said if the lots are used for produce, the developer would like them to be assessed as farmland, which could lower the tax bill.
Administrator Dykstra said she would study the overall issue and report back at the March meeting.