Harlem Superintendent Morris earns racial justice award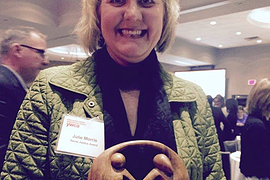 By Bob Trott
Reporter
MACHESNEY PARK – Superintendent Dr. Julie Morris, described as quiet, and having integrity and a laser-like focus on the whole child, was recognized at the regular Harlem School Board meeting Monday, March 9, for receiving a Racial Justic Award at a March 3 YWCA Leader Luncheon.
Morris said later in the week that her efforts in that area were the result of mediation with a Concerned Minority Parents Group in 2008. Morris started as superintendent for the Harlem School District in October, 2007.
The Harlem website said the award was a huge surprise for Morris, and was designed as a celebration for women in achievement. It added she did not even know she had been nominated in the racial justice category until she attended the event.
Honoree
This award recognizes those who demonstrate an outstanding commitment to promoting racial justice and are working toward the elimination of racism.  The racial justice honoree must demonstrate a commitment to racial equity and advocacy of fundamental rights of all races. Morris received the award for her ongoing work toward racial equity in the Harlem School District.
Over the past four years. Morris has facilitated courageous conversations around racial equity while training with district administrators and the Pacific Education Group (PEG).  Her vision embraces the district mission of supporting all diverse learners in order for each to realize their unlimited potential, the website adds.
Stakeholder engagement
Director of Stakeholder Engagement Cathy Martin told the school board that, in 2010, Morris began to lay the foundation for systemic racial equity work. "She (Morris) understood that the journey would be long and arduous, and that it would take courage and perserverence," Martin said.
Martin, who is retiring after this school year, said Morris' efforts in the racial justice area were based on The Way of the Warrior, as defined by spiritualist Angeles Arrien, and delineates four universal principles based on Shamanic Archetypes.
The principles are:
* The Way of the Leader, which is how a person shows up, or is present. In this case, it depicts Morris' calm demeanor and clear communication, which was evident early in her tenure as superintendent. Martin said Morris consistently addressed their concerns with racial, socioeconomic and cultural understanding;
* The Way of the Healer, which involves paying attention to what has heart and meaning. This is perhaps the most-difficult part of Dr. Morris' personal journey, Martin said.
"She has always had heart and meaning, but was reluctant to allow that piece of herself to be visible," the stakeholder engagement director said about the superintendent. What helped Morris there was a 2007 PEG training event called, Beyond Diversity.
* The third principle, The Way of the Visionary, focuses on telling the truth wihout blame or judgment. The Way of the Visionary is expressed through personal creativity, goals, plans and ability to bring dreams and visions into the world.
Martin reported, "Nothing illustrates Dr. Morris' Way of the Visionary better than her creation of the Stakeholder Engagement Department, whose sole purpose is to engage, in meaningful ways, internal and external stakeholders.
* Described as perhaps one of the hardest principles to embrace is the last one, The Way of the Teacher. It is open to, not attached to, outcome. Dr. Morris emulates this Way through her commitment to process in all we do, for she understands that the process is often more important than the outcome, Martin said in her report.
"Dr. Morris may not see the completion in her tenure in the Harlem School DIstrict, but she acknowledges that the work will go on, Martin concluded.
"A long-range vision is in place to bring our schools' personnel, students and community to the Way of the Warrior and Courageous Conversations around race that will impact future generations, school and community climate and culture, and ultimately the academic integrity that all students deserve to enjoy."
Boys' bowling
Athletic Director Kurt Weigt reported the Harlem varsity bowling team was the NIC-10 champion and finished no lower than second in any tournament in the recently-concluded season. Throwing perfect 300 games at state competition was Sophomore Jacob Nimtz. The team placed second at state, and Nimtz was state individual and NIC-10 Conference champion. Nimtz' perfect games came on the final day of competition, Saturday, Jan. 31, at St. Clair Bowl in O'Fallon. Nimtz tallied 3,011, breaking the old record of 2,963 by Salem's Alex Henseler in 2008.
Nimtz' two perfect games led to his final pinfall (744-745-805-717). He also won the Lincolnshire Sectional individual title.
Joey Heathscott, the Huskies' lone senior, was 44th at state with 2,474. Other Harlem scores were: Collin Day, 56th, 2,386; Dawson Jones 2,325; Austin Bull 1,755; Kyler Gerl 381; Nick Howard 164 and Cole Damon 145.
At the March 9 board meeting, members of the team shook hands with school board members and other Harlem officials. Team member Gerl was not able to attend.
Human Resources
The board met in a lengthy closed session, and then approved changes to the Human Resources Department.
Superintendent Morris said after a previous school board meeting the changes will restore the department to its pre-2007 state. She said the changes made at that time had a lot to do with finances.
Her statement to the board this year said that, to provide necessary support to the human resources department regarding new state and federal laws, and to bring the entire function of certified and support staff evaluation and discipline back, she recommended Harlem reinstate the assistant superintendent for human resources position.
With the assistant superintendent in place, the director of human resources position will be eliminated and replaced with the human resources coordinator position. Morris also recommended changes in the area of payroll and professional development.
Job description changes
There are currently many overlaps in the duties of the director of curriculum and director of
accountability and school improvement, Assistant Superintendent for Curriculum and Instruction Barb Oles reported in a written statement. To make support from the district more efficient and responsive, the Harlem administration recommended job title and job description changes.
Instead of having a director of curriculum and director of accountability and school improvement, administrators recommended having a director of elementary education and a director of secondary education, Oles' report said.
Other business
* Assistant Superintendent for Business and Operations Josh Aurand reported a federal reimbursement program will allow the district to save most wireless technology and Wide-Area Network (WAN) costs. The program is called E-Rate.  Aurand reported total recent expenses to the district totaled $3,122,202.50, including payroll expenses of $2,699,566.65.
* Superintendent Morris reported the following recent personnel moves for the district: nine employments, four resignations, six sick leave requests, zero transfers within the district with an addendum of two transfers and five leaves-of-absence.
* Upcoming meetings, involving school board members, are: policy committee, Monday, March 16; superintendent evaluation workshop (open session), Wednesday, March 18, in place of a quarterly board meeting; education committee, Thursday, March 26; regular board, Monday, March 30; business services committee, Wednesday, April 15; and discipline policy review committee, Thursday, April 29, each at 6 p.m.