Hononegah High School's Wizard of Oz lifts audiences over the rainbow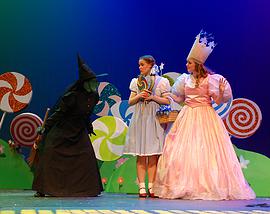 By Marianne Mueller
Reporter
 ROCKTON – Hononegah High School's Wizard of Oz shined brightly amidst colors and detailed scenery. Fourteen scenes moved flawlessly on the Hononegah High School Performing Arts Center stage.
Action opened in the Kansas Prairie with Aunt Em (Julia Carabelli), Uncle Henry, (Adam Spaulding) Dorothy (Elaina Wheeler) and Toto.
Enter an enraged Miss Gulch on her bicycle that had a run in with Dorothy's dog, Toto after he bit her."
This results in Dorothy finding herself in trouble and she decides to run away with Toto.
Dorothy pays a visit to Professor Marvel (cleverly played by Charles Gallagher) whose crystal ball connects Dorothy with a heartbroken Aunt Em. After attempting to return a tornado rips through Kansas, sending Dorothy to the imaginary Land of Oz where she ends up in Munchkinland.
While following the yellow brick road Dorothy makes new friends in the form of a scarecrow who was looking for a brain, a tin man who is searching for a heart, and a cowardly lion seeking courage.
Along the way the foursome runs across a wicked witch (brilliantly portrayed by Megan Magee) who vows to get Dorothy and her little dog too.
Glinda the good of the North (played convincingly by Emily Hankins) Witch appeared lending Dorothy and her friends a hand whenever needed.
On the journey Dorothy and her friends eventually make it through the gates to meet the Wizard of Oz who after some convincing gives everyone their wish.
Under Glinda's count of three Dorothy is transported back to Kansas in a very confused state. Upon her safe return she realizes that there is "no place like home."
Pure, budding talent of youth was uncovered through talented acting, singing and dancing in roles of munchkins, the Lullaby League, and The Lollipop Guild.
Munchkin soloists were Baily Dibble, and Will Roberts. Casey Bohn was outstanding in his role as the Mayor. Pedro Neira was the barrister. Ben Cooper stared as the Coroner, and Nico Bertolino transformed into a father. Each proved they have real acting and singing chops as they celebrated the Wicked Witch's demise by chanting, "Ding Dong, the Wicked Witch is dead."
Smooth flowing dance numbers like the Jitterbug and various tap dance sequences featuring trees had audiences moving in their seats. Poppies created a beautiful scene complete with in sync dance moves.
Musical numbers hit all of the right notes beginning with Elaina Wheeler as Dorothy belting out spectacular vocals on "Somewhere over the Rainbow." In every scene became a true likeness of Dorothy Wheeler leading audiences on Dorothy's adventure.
Chris Lee wowed audiences as the scarecrow. His ability to show natural humor by rolling on the stage, and via comedic talent was evident as he brought his character to life.
Jack Hradecky portrayed the Tin man's vulnerability as the Tin Man. His rendition of "If I only had a Heart" proved to be very close to the original stage production.
Tim Schultz displayed a wide range of emotions as a very loveable cowardly lion. He added great humor along with switching into a dramatic capacity. Capturing great attention was Schultz's version of "If I only had a Brain and" If I were King of the Forest."
Wise cracking crows didn't even want to be near the scarecrow. His physical comedic attributes stood out. The song, "If I only had the Nerve" showed what lies under the Lion's fears.
Ozian's joined all of the main characters in singing lyrics of "The Merry Old Land of Oz."
Dorothy and friends entertained by repeating the words Lions, Tigers and Bears, "Oh My."
Connor Young's comedic prowess shined through as the Guard of the Gates. Alex Carey allowed all sides of the Wizard of Oz to show through.
Megan Magee purely entertained as the Wicked Witch with perfect precision and believability. The witch's cohorts included Winkle's and flying monkeys. Poppies and trees also played important roles.
Directed by Amy Jensen and choreographed by Kristy Nuemer Hononegah High School's Wizard of Oz honored Frank Baum's long time classic story. A pit band was directed by music conductor, Kevin Jensen. Music and lyrics were from the MGM score by Harold Arlen and E.Y. Harburg.  Student Directors were Alex Perry and Brittney Legowski .
Rebecca Jensen and Susan Dibble served as costume and props directors, respectively. Lighting and Sound effects took everyone into the familiar territory of an imaginary Oz.
The entire cast and crew of Hononegah High School's Wizard of Oz lifted audiences over the rainbow!