Third 'Know Your Neighbor' event brings large crowd to Harlem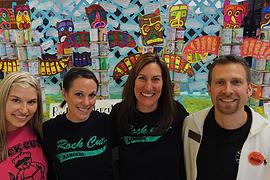 By Bob Balgemann
Reporter
MACHESNEY PARK – A large crowd turned out Saturday at Harlem High School for a snapshot of the community in which they live.
Booths were set up in hallways and in the vacated Commons, where students usually eat lunch every weekday. That space was occupied by businesses and organizations, each with a story to tell.
Other booths displayed student projects, which told a story of their own.
All of that was staged for the third year by Harlem School District 122. Those who put it together were pleased with attendance, even though it was relatively nice outside and people could have been doing something else.
Students at Rock Cut Elementary School used cans adorned with their original artwork to tell stories of their lives. Stacks of cans were fashioned in the shape of totem poles, an age-old form of communication. Behind them were quotes written on pieces of paper that related student memories of their school.
At the end of the day the cans, containing fruits and vegetables, were taken to the Northern Illinois Food Bank for distribution to families in need.
Kelly Duncan, Rock Cut's ESOL – bilingual teacher, came up with the idea.
"The whole school came together in a sense of community to do it," she said of the project. "We've had a different theme every year."
Other student handiwork came from Loves Park, Maple, Marquette, Olson Park, Ralston and Windsor elementary schools, and the Parker Center. Harlem Middle School had a project as did the freshman campus and high school.
Performances were staged by Puppets with a Purpose, Machesney Fine Arts, Luke Mohns, Ski Broncs, Rock Cut and Ralston choirs, Matthew Bork from Rockford University, No Joke Martial Arts and McNulty Irish Dancers.
Forest City Dogs had demonstrations at their booth throughout the day.
Event a partnership
Forty nine businesses and organizations, plus the village of Machesney Park, partnered with District 122 on the event. They had booths from which they provided information on what they do.
With the promise of warmer weather, at least for a few days, thoughts turned to spring and with that comes the annual Young at Heart festival adjacent to Loves Park City Hall. Two members of this year's royal court, Queen Megan Clarida and Petite Princess Madison Hawn, were among visitors to Know Your Neighbor.
Longtime emcee Frances Williams was at the organization's booth and said it appeared this year's pageant would have a large field of candidates. "There are 14 already and it's just early March," she said with optimism.
This year's pageant is May 9, with applicatiions due by April 10.
Among the crafters at the event was Melinda Carlson of Rockford. Her specialty was earrings but not the conventional style. Her porcupine creations were made of actual quills, garnered from road kill and other sources in Alaska.
That's where the three-year-old hobby began, while she was housesitting for a bush pilot from Pecatonica. She remembered being bored and looking for something to do, so the idea of porcupine earrings just "popped into my head."
Her inspiration was jewelry made by the Athabascan Indians.
Those earrings now are being sold in Fairbanks, St. Michaels, Md., Washington, D.C. and on Etsy, an online marketplace for artists. Locally, they're available at Summerfield Zoo, just south of Belvidere.