Willowbrook Middle School teacher is among five Golden Apple recipients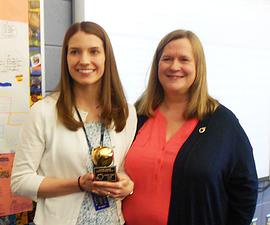 By Jean Seegers
Reporter
 SOUTH BELOIT – Willowbrook Middle School Literature and Spanish teacher Laurie Mayer was preparing for the day's lesson when she was interrupted by a group of teachers, students, family and representatives from the Golden Apple Foundation.
Rockford Health Systems CEO Gary Kaatz stepped forward and presented the surprised teacher with a Golden Apple, the symbol of excellence bestowed on five outstanding Winnebago and Boone County teachers each year by the Golden Apple Foundation.
Mayer has taught sixth grade English literature and sixth through eighth grade Spanish at Willowbrook for the past six years.
Mayer is a University of Illinois graduate and earned her master's degree in curriculum and instruction from National Louis University.
Debbie Lecuyer, Mayer's mother and a teacher at Kinnikinnick School, proudly stood by her side during the presentation. Lecuyer was the recipient of a Golden Apple in 2012.
Mayer was recognized for her dedication and willingness to mentor and support her students.
Joining the list of Golden Apple award winners are:  Rohini Gupta, who teaches math at Harlem High School; James Schoepski, ninth through 12 grade social studies teacher at Belvidere High School; Amy Orvis, seventh and eighth grade social studies and language arts teacher at Maria Montessori School at Thurgood Marshall and Boylan Catholic High School Art teacher Rebecca Downing Pelley.
More than 500 middle school and high school teachers were nominated last fall. Twenty finalists were announced in December.
Golden Apple teachers receive a professional development stipend a Rockford University scholarship, a laptop and software from Entre Computer Solutions and a classroom computer from Rockford Computers for Schools.
This year's recipients will be honored at the Excellence in Education Banquet, May 1, 2015 and will be inducted into the Golden Apple Teacher Academy.