Woman killed during house fire in rural Rockton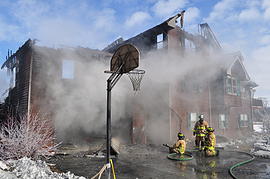 ROCKTON – Rockton firefighters received a call at 7:03 a.m. for a reported garage fire in the 5200 block of Yale Bridge Road on Feb. 25.
Initial reports stated that all occupants were out of the house, however, that wasn't the case.
Anita Specht, 58, was killed while trying to remove vehicles from their Yale Bridge Road home. When Rockton firefighters arrived, they found a three-story home well engulfed with fire.
Heavy fire was showing from the garage area. The home owner, Edward Specht, advised firefighters that his wife was still in the garage.
Fire conditions were so intense that firefighters were unable to advance a hose line into the garage area without placing themselves in harm's way.
"The fire was too intense, and the roof over the garage had already collapsed. At this point, we knew it was too late," said Rockton Fire Chief Kirk Wilson.
With the inclement weather and high wind conditions, several area fire departments responded to help extinguish the fire.
"This fire was wind driven and very difficult to control," said Chief Wilson. The Illinois State Fire Marshal was called to assist with the investigation.
Improper disposal of fire place materials / ashes was the cause of this tragic blaze.
"We at the Rockton Fire Protection District are saddened by the loss of Mrs. Specht, and our thoughts and prayers go out to Edward and his family.
"Firefighters can't express enough how important it is when you are stricken by a home fire to get out of the home and stay out. Never go back in to retrieve material items, your life is more valuable."
As of Friday Ed was still in the hospital with some burns and complications.
A fund account has been established at First National Bank – Rockton Branch to help the family.
Should anyone wish to make a donation they can go to any of the First National Bank and Trust Company  locations to make a donation.
Should they wish to mail a donation it can be sent to First National Bank and Trust Company 300 E. Main, Rockton, IL  61072. Make checks payable to the Ed Specht Family Fund.
A gofundme fundraising campaign has also been established at http://de.gofund.me/nbnw8k. As of Sunday, $7,380 had been donated.