Admission button for Young at Heart Festival is unveiled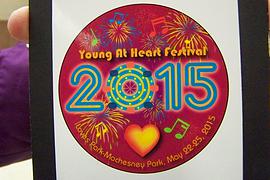 By Bob Balgemann
Reporter
MACHESNEY PARK – As has been the custom for the past 43 years, officials representing the Young at Heart Festival have gathered to unveil the admission button for the annual, Memorial Day celebration.
That was done on April 20, a very un-springlike day, in the lobby at Harlem High School. And this year's winning artist is Stephen Cain, a junior at the school, who said his design embodied the most important features of the festival: the fireworks, rides and music.
His design was selected from a field of 50 entries, students of high school art teacher Barb Kurilla. She is in her 13th year of working with festival officials on providing proposed designs.
In all, Harlem students have provided the button design for the past 15 years.
"They enjoy doing it," she said of her students. They look forward to it, too, not to mention having an opportunity to win the $100 cash prize.
Presiding over the unveiling ceremony were Diana Johnson, executive director of the sponsoring Parks Chamber of Commerce, and the chamber president, Tammy Scott.
This year's winner was chosen by members of the chamber's board of directors. "The board members love to select the winner," Johnson said. And, as is usually the case, "there was a heated debate among them" as they narrowed the list of entres to four finalists.
The 44th button will join 43 others in a display at the chamber office, adjacent to Loves Park City Hall.
Trickie Enterprises was announced as the festival's platinum sponsor for the seventh consecutive year.
Among the dignitaries invited to attend was Machesney Park Mayor Jerry Bolin. "These youngsters do a great job," he said. "They all deserve to win but there can only be one winner."
Loves Park City Clerk Bob Burden also was there, along with Heather Kelley, president of the Harlem School District 122 Board of Education and the high school principal, Terrell Yarbrough.
Stephen said he comes from an artistic family and has been taking related classes during his two-plus years at the high school. "I found I had a passion for art in my elementary school years," he recalled.
While he has time to decide on life after high school graduation, he said he plans to attend Rock Valley College for two years and then transfer to Cornell University in Ithaca, N.Y. He plans to focus on landscape architecture and is taking classes at the high school to prepare for that.
Stephen's grandmother, Barbara Sams, was at the unveiling and said how proud she was of him. "It (art) has been an interest of his for quite a while," she said.
She said Stephen's uncle is a poet while his grandfather works in the photography department at Ithaca College in New York.
This year's festival will be held May 22-25, concluding with a fireworks display. Opening day ceremonies will hosted by longtime Loves Park Mayor Darryl Lindberg, along with the 2014 Young at Heart queen and her court and a variety of state and local officials. The colors will be presented by a unit consisting of Loves Park police officers and firefighters.
The pageant will be held May 9, in the auditorium at city hall, with a fishing tournament on May 16.