Belvidere woman runs red light, hits three vehicles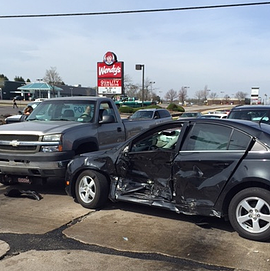 LOVES PARK – On Sunday, April 19, at approximately 10:17 a.m., Loves Park officers responded to an accident with injuries at the intersection of E. Riverside Blvd. and Mulford Road, involving four vehicles.
During the investigation, it was alleged that one of the drivers, Maria Rivera Gutierrez, 32, of Belvidere, was traveling west on Riverside Blvd, in a Blue Suzuki Rodeo, when she disobeyed a red light at Mulford Road and collided with a southbound vehicle in the intersection.
She had five passengers in her vehicle, including four children ranging from 2-11 years of age. The southbound vehicle was driven by a 70-year-old male of Loves Park.
Before the southbound vehicle came to a rest, it collided with two additional vehicles that were stopped eastbound on Riverside at Mulford Road.
Gutierrez did not have a driver's license. She was cited for Disobeying a Red Light, No Valid Driver's License and Failure to Properly Restrain Children with a Seat Belt/Child Restraint.
Gutierrez, along with a child from her vehicle and the 70-year-old driver of the southbound vehicle were transported to area hospitals, for non-life threatening injuries.
While directing traffic at the same intersection during the clean up phase of the accident, an officer observed a Ford F150 pickup truck occupied by four adults and three children approaching the intersection. The truck is equipped with four seatbelts.
The vehicle was flagged over by the officer, at which time it was learned that the driver, Candelaria De Ora Motes, 48, of Rockford, had no driver's license.
De Ora Motes was cited for having No Valid Driver's License and three additional citations for Failure to Properly Restrain Children with Seat Belts.
The Mulford and Riverside intersection is one of the 12 intersections Loves Park Police began monitoring and increasing enforcement at, nearly eight weeks ago, in an effort to reduce accidents.