Byron Dragway gets new tower for 51st season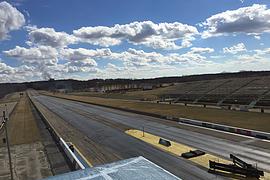 By Doug Schroder Editor
 BYRON – The new tower being built at Byron Dragway has been a total community effort by all of those involved. The need to rebuild the tower have been long over due, as volunteers found out while tearing down the old tower. With the old tower the roof had rotted badly and was ready to fall apart, as volunteers found out when renovations began on the first Tuesday this March.
Stillman Valley's Rick Roberson headed up the all-volunteer effort and he had almost 40 others join in the effort to rebuild one of the original structures of the Dragway. Not only did individuals volunteer their time for the effort, many area businesses volunteered their services and/or equipment also. All materials for the project were bought locally. Businesses from across Ogle County became involved, as well as one from Rockford also. Contractors and tradesman from across Ogle County and beyond came together on the project, too. Mark Langfoss, who hails from East Dundee, IL, was there on Saturday working on the tower. He first became involved with the dragway as a spectator when he was 13 years old in 1971. Since then he has gone on to become a participant in the races and can be found at the dragway nearly every weekend during racing season.
The original tower was built during the initial construction phase of Byron Dragway, which started in 1963 and continued until the opening of on July 4, 1964.
The season was supposed to start this past weekend but poor weather prohibited that from happening. The new season will start this weekend instead.
Work on the tower was delayed on Saturday due to high winds. Finishing the roof, overhang and siding would have to wait until another day.
When work is finished on the tower it will be really nice. The new tower will feature two levels, one for the announcer and timer, while the top level will be a luxury suite.
Track owner BJ Vangsness was there on Saturday overseeing the project. He's looking forward to the new season.
"We already have 500 people signed up for the Metal Meltdown Drags this year. That event has become the largest of its kind in the world," stated Vangsness.
While the tower won't be complete for opening this weekend, it should be finished by the following week.