Candidates prepare for Belvidere School Board election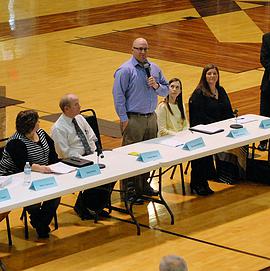 By Tricia Goecks
Reporter
BELVIDERE – When residents go to the polls on Tuesday, April 7, they will have the opportunity to vote for members of the Belvidere Community Unit School Board 100 board.
On the ballot are Allison Reid-Niemiec, Michael Rathbun, Frank Marks, Holly Houk, Lynette Danzl-Tauer, Heather Sell-Wick and Kelly Galluzzo.
Voters will have the opportunity to vote for three open positions on the board. Those positions are currently held by Rathbun, Jason Colson, and Dan Colson.  Rathbun is the current board president and is the only board member seeking reelection.
Voters will have the opportunity to vote for one candidate from Belvidere Township 44N Range 3E. Candidates from that area include Rathbun, Reid-Niemiec and Marks. From the remaining congressional townships, voters will be able to vote for two candidates and will choose between Houk Danzl-Tuaer, Sell-Wick and Galluzzo.
Allison Reid-Niemiec
Reid-Niemiec is a speech pathologist and is the secretary and compliance office for Parents Advocating for Students and Staff (PASS), past executive board member and secretary for Northern Illinois Speech Hearing Language Association. Reid-Niemiec has three children.
"I will serve you as an active listener, a passionate voice, and a research-based responder," Reid-Niemiec told the audience at the recent candidate forum sponsored by the League of Women Voters.
"We need to continue to be financially stable but we also need to attract and retain our teachers," Reid-Niemiec said in response to a question regarding the need to balance a quality education and the need to balance the financial burden on taxpayers.
"How do we do that? We bring everyone together in the community to unify in making collaborative decisions."
All candidates were asked about online schooling options. "I am open to online classes if the need is there and if the option to take either a teacher –based course or an online course is given.  Then the online courses will not take the place," Reid-Niemiec said. "The online courses are meant to enhance the way we educate our children and who is this going to be available to. Who are we going to target? Are we going to look at those questions before we say online courses are the way to go."
Michael Rathbun
Rathbun is the associate director at Discovery Center Museum. He has served on District 100's school board for the past seven years and is the current board president. Rathbun served on Boone County's Special Education Coop Board from 2008 – 2014.
"We have seen declining local revenues and we still maintain a high quality education in the district. Graduation rates have not declined despite the poverty status increasing from 40 to 45%," Rathbun said in regards to a question to balance quality education and the financial burden on taxpayers.
"We have had to work hard and be smart about how we use our money. We have had to work to keep the teachers that we have."
In response to a question on retaining teachers in the district, "I think one of the big things is competitive pay, but that balances out with what the community can provide.  We cannot compete with the suburbs. The suburbs can provide so much more," Rathbun said.
"We have to provide other things that will draw our teachers in that means a positive environment where teachers feel appreciated, providing teacher with the tools they need to succeed which means providing more one-to-one opportunities, get more technology in the classrooms, get teachers those tools that kids need, invite online educational opportunities so teachers can continue improving their skills, add more tools to the toolbox for their classroom."
Frank Marks
Marks worked for 25 years at District 100 as a teacher and administrator. He was a division chairman, district curriculum coordinator, gifted director, bilingual director, and assistant superintendent. He previously served as the president and vice president of the Belvidere Education Association and served for 10 years on the Board for Woodstock Community Unit School District.
"We find ourselves in a great technological revolution that is affecting education as it is affecting every other area in the economy. The future for transition to that kind of world is open," Marks said in regard to a question regarding his opinion of online education. "I would be for online education if it serves the needs of the students and the community."
"If I was to be in a classroom 10 years ago and 100 years before that, I could point to many things that are similar. I would suggest in the next 10 years things are going to change much more radically than that. Board members have to be open to new ideas. At the same time protect those basic foundational goals that we are trying to accomplish."
"The district has to be competitive in terms of wages and conditions. Another one is the particular feeling that a teacher has in terms for self-respect. In other words, a person has sacrificed a great deal to be a teacher," Marks said in regards to a question on how to retain quality teachers.
"If someone is not treated in a way that goes along with that, there is pretty much a disappointment and the teacher cannot help but express that in some way or another. "
"I think one thing every school needs is a feeling that you are accomplishing something that means something to the district. We need to nurture our teachers and appreciate them."
Holly Houk
Houk is a real estate assistant. She has worked as a noon aid in District 100 for the past seven years and worked with students in classrooms, playgrounds and has worked with students, teachers and administrators. Houk is the co-founder and coordinator of the Belvidere South Parent Volunteer Organization.
"The teachers are the soldiers. They are the ones doing the job," Houk said in a question regarding how to attract and retain quality teachers.
"They are the ones with our children every day. We need to listen to them.  We need to make sure that the policies and the procedures that we are expecting them to deliver make sense in our schools today."
"We need to listen. We need to make them part of the team and we need to be there for them. We need to give them the support when they need it."
"I love this district. I love these families. I love these kids," Houk said in her closing statement. "I have been in every school in this district. I know kids in every school. I know parents in every school. I know teachers in every school. I speak with them all of the time. I will work tirelessly and make sure that they are all taken care of and all students are given the best educational opportunities available to them."
Lynette Danzl-Tauer
Danzl-Tauer is the chairman of the Life Science department at Rock Valley College and has 24 years' experience in curriculum development, instruction, assessment and budgeting. She is a member of the Belvidere High School Music Boosters and is on the executive board of the Belvidere YMCA Barracuda swim team.
I believe it is the responsibility of school board and district to provide the best education it can for the students whether they are pursuing a college degree, technical/vocational career or special needs. It is important to meet those needs in a fiscally responsible manner.
"We need to have high quality teachers, para professionals, and custodial staff who keep our buildings running as best we can," Danzl-Tauer said in response to a question on balancing a quality education with the financial burden on the taxpayer.
"As a taxpayer I hope we would stay on top of the ball. If we hire the cheapest teachers or least experienced para professionals and custodial staff we may not get our bang for our buck.
"I would rather that we spend a little more money and get the best quality that we can so our students can have a learning foundation of excellence."
"Getting high quality experienced teachers costs money," Danzl-Tauer said in response to a question on how to attract and retain quality teachers.
"We need to make sure that our school district is a desirable place to work. We want them to have a role in the shared governance of the district.
"We want to make sure their opinions are valued. I think that means more to teachers than the money does. I know it does for me."
"Research shows that teachers with more experience tend to have a better grasp of their teaching material, the subject matter. Research shows it takes about eight years for teachers to be master teachers and that is where we want them to be when they are interacting with our students."
Heather Sell-Wick
Sell-Wick is the marketing and communications coordinator at Alpine Bank. Sell-Wick is running because she sees a disconnect with the school board, administration, staff and students and believes the gap needs to be sealed.
"When I hear online schooling options I hear two different things. I think of where my son can go online and learn math a little faster.
"I am 100 percent in support of that because he may not have time in class to finish  what he wants so he can sit online and finish it together. I support that fully," Sell-Wick said in response to a question regarding her support for online education.
"I think one thing that we need to look at before we start offering online schools is that the student has the means to do their class online. Do they have a connection to the internet, do they have a means to use a computer. Do they have a means to get to the library to use a computer if they do not have a computer at home?"
"I think there are a whole lot of different things before we offer classes to everybody. I believe that this is a really good option if they cannot get the class at school and they want to learn more. Then it is a great option to have."
"We need to find out from teachers who have longevity here what has kept them here. Why have you stayed here for so long?" Sell-Wick said in regards to a question on how to attract and retain quality teachers. "I think that will also attract great teachers."
"The other thing we have to think about is will the board listen. Really listen. Take everything to heart.  We are going to make this district the number one district."
Kelly Galluzzo
Galluzzo is an account executive for WREX. She previously was the executive director for 10 years at Growth Dimensions.
She is a board member of the Rockford YWCA and a former board member of the Northern Illinois Workforce Alliance.
"I worked to retain and attract business here. I marketed this place as a strong community with a strong education system," Galluzzo said.
"I have been in countless meetings and had dialog with many education members, business members, pillars of the community looking for the best possible ways and best initiatives of what we can do to put our students and our district at the forefront of our workforce."
"All stakeholders need to come together to define what is a quality education and what that looks like. That is developing a core comprehensive vision of what District 100 wants to look like and how it wants to get there.
"That includes goals being set and measurements being set," Galluzzo said in reference to a question regarding the need to balance quality education with the financial taxpayer burden.
"As the district moves forward to achieve that vision it would have a road map that it would follow.  That process would involve community, administration, school board, parents, families, and tax payer base."