Complete transportation exhibit to be at PG Airport museum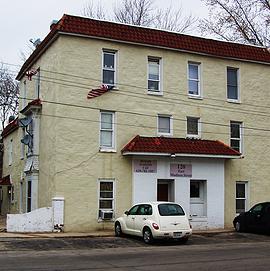 By Bob Balgemann
Reporter
POPLAR GROVE – It was temporary and it was separate. Now it will be in one location and available for viewing May 1.
That's the Boone County on the Move tribute, through walking and driving tours, to the county's transportation history.
Part of the exhibit was a series of panels, each filled with photographs, recalling the horse and buggy days of Belvidere. More photos and information were posted in the Vintage Wings and Wheels Museum at Poplar Grove Airport.
The museum will reopen May 1 and, at that time, the panels will have been moved there to serve as part of a more permanent exhibit.
Joanna Dowling, curator of the museum, said the driving tour will remain the same. It will pass by sites of buildings that were part of the evolution of transportation in the city and surrounding countryside. It also will pass by buildings that are still standing, with information on what they once were.
"We plan to reprise the walking tour of 2014," she said. "We will start at the Brick (restaurant on State Street) and continue to the (Kishwaukee) river and back along State Street. It will take about an hour and visit old buildings that are still here and see the sites of what used to be."
The first tour will be held later this spring and repeated during the summer.
Information will include how the character of downtown Belvidere has changed. There will be photographs of buildings that were part of that history but no longer are here.
New depot on hold
Walkers will go past where the city's original railroad depot was situated, near city hall. Belvidere officials were planning to start construction of a new depot this summer, but now that's been put on hold following the announcement that funding pledged by former Gov. Pat Quinn was in limbo.
The exhibit at the museum will have a timeline of the county's first 100 years of transportation history, from the 1830s until the 1940s. It started with the stage coach, followed by the railroad and aviation.
Dowling said there will be information about transportation businesses and businesses that relied on transportation, such a delivery wagons. Automotive garages, gas stations and car dealerships all played a part in that transition.
Manley Motors, a Ford dealership at 621 S. State St., is one of the automotive complexes that's still around.
But it's scheduled to be torn down as part of an arrangement with the city, which is buying that soon to be vacant space for development as a parking lot. Manley is moving into the former Jack Wolf dealership at the corner of State and Appleton Road.
Here are some of the buildings that remain today but have different uses:
National Sewing Machine Co. factory building, 322 Meadow St., now Ace Hardware; Robinson's Blacksmith Shoip, 223 N. State St., now Aladdin's Smokes & Gifts; Standard Service Station, corner of Logan Avenue and Main Street, now Logan Avenue Mobil Service and Repair; and the Triangle Garage, the first auto repair shop in town, corner of Pearl and West Pleasant streets.
The Boone County Family Restaurant at Illinois 173 and 76, in Poplar Grove, is part of the driving tour. It dates to 1937 and once had an adjoining gas station, known as Wheeler Standard Service.
The Poplar Grove Hotel, at more than 150 years of age the oldest building in that village, was a busy place during the evolution of transportation in the county.
Other stops include sites of railroad depots in Poplar Grove, Caledonia, Garden Prairie and Capron.