County needs state OK of local breeding, boarding rules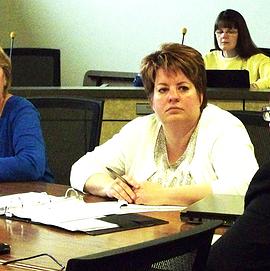 By Bob Balgemann
Reporter
BELVIDERE – Boone County may have local regulations for animal breeders and boarders. But there's a catch.
Such rules are within the jurisdiction of the state Department of Agrilcuture. And that department must approve of any local rules the county may wish to impose, to be certain there aren't any conflicts. If there are, state rules prevail.
So an ad hoc committee on breeders and boarders agreed Wednesday (April 15) to work up some proposed regulations and send them to the state for comment.
That decision was made after Assistant Boone County State's Attorney Tony Fioretti delivered what he termed "bad news."
He said he "touched base" with the attorney for the state Depart,emt pf Agriculture (DOA) "who essentially agreed that they are in charge of regulations for breeders and boarders. The county can't step into their arena."
"That's what we asked for," committee Chairman Denny Ellingson said of an answer to the question that has been lingering for many weeks.
Despite that, there still are osme options available to the county.
Fioretto said officials could ask the state Legislature to have the DOA impose more stringent rules, if they thought such were needed. Possibly the department would allow the county to do that, he said, adding, "It seems DOA has enough on its plate."
It was committee member Jeannine French who suggested the panel propose some rules for the DOA to consider.
Fioretti supported that approach, suggesting the committee contact state Rep. Joe Sosnowski, R-Rockford, about this issue being of concern among residents of his 69th Legislative District.
Caution from attorney
And he cautioned, "Any rules proposed would have to be reasonable and not in conflict with the DOA. You can't get too far into the regulation of breeding itself."
Another area with wiggle room was developing rules for the care of animans. But there was disagreement over whether the county could address the overpopulation.
As the discussion meandered along resident Robert Christianson, speaking from the audience of four people, encouraged the committee to make a decision. "From what I'm hearing today, you'll be sitting here two years from now without a decision."
Ellingson answered that the committee was just trying to digest what Fioretti had brought to the meeting.
Ultimately, the committee agreed to prepare a list of proposed rules using some from Clark County in Washington state, some from a list of rules for conditions at outdoor animal facilities and existing state regulations. From all that a list will be cobbled together for submission to DOA, to see which, if any, that agency will allow to be imposed locally.
In addition, members wanted to address the subject of overpopulation, but weren't sure how. The DOA allows up to five breeding females in such a facility. But wanting to do that brought a question from member Meg Hennessey, who asked, "Is there an overpopulation problem in Boone County? We're assuming there is, but do we know?"
No one had an answer to her inquiry.
Instead, member Gwen Meyer read from an earlier memo from Fioretti, in which he stated that the county had limited ability to regulate overpopulation.
"The state has told us that since we're not Home Rule, we have to make them (DOA) like the rules we want to put in effect," Ellingson said.
French provided the committee with its marching orders when she said, "Let's take what we have, mesh them together and send that to the state."
The committee's next meeting will be at 1 p.m. May 6.