Heritage Days to pack new activities into 3 days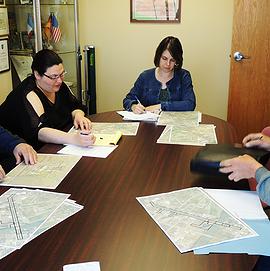 By Bob Balgemann
Reporter
BELVIDERE – The city's annual celebration of Heritage Days will be here in a scant two months. And a committee is meeting in hopes of making the three-day festival a good time for the young, old and in-between.
This year's dates are June 26-28, with the various events focused on State Street downtown and out at the Boone County Fairgrounds.
Everything from a car show to go-kart races, an art show, bed races, Taste of Belvidere, a 5K race, fireworks and sidewalk sales are on tap. And there will be some new wrinkles as well, all packed into three days filled with fun things to watch and do.
The Heritage Days Committee is led by Mayor Mike Chamberlain and consists of Danny Anderson, Lance Anderson, Gina DelRose and Sarah Turnipseed. It met last week and came up with the following preliminary schedule of events. Times are subject to change.
Friday
Festivities will open with sidewalk sales along State Street from noon to 9 p.m.
Taste of Belvidere, featuring samplings from various Belvidere restaurants, is from 4 to 8 p.m. This year eateries elsewhere in Boone County, including Poplar Grove, may be invited to participate.
Go-kart racing will return, from 6 to 9 p.m. in the parking lot between PNC Bank and the Salvation Army Thrift Store. Practice sessions will start at 6 p.m.
A street dance is planned, from 6 to 9 p.m., near the Apollo Theater.
Other events are expected at the Dari-Ripple and Apollo.
Saturday
Go-kart racing will kick things off at 8 a.m. and continue until 3 p.m. There also may be a static display of historic karts, dating to the 1960s.
The classic car show, with vintage vehicles lining both sides of State Street, is scheduled from 10 a.m. to 6 p.m. with the Brick restaurant art show from 10 a.m. to 4 p.m.
Paint on State, primarily for youngsters, is new this year and will be held from 10 a.m. to 4 p.m. For $5, would-be artists will be given a square on State, possibly on the bridge, and allowed to decorate it.
This event is being sponsored by the Belvidere Arts Council.
There will be music and dancing from 5 to 8 p.m., near the Apollo.
Sunday
A patriotic worship service will begin the final day of the festival at 10 a.m. at the Belvidere Community Building on First Street, down from the Brick restaurant.
Bed races will return to the State Street bridge but may be earlier this year, starting at noon. And the parade tentatively is being moved up one hour, to 3 p.m. But both new times are subject to change.
Activities then will shift to the fairgrounds off Illinois 76, just north of Bypass 20, with food available throughout the evening.
A 5K race with obstacles is planned by the Belvidere Family YMCA from 6 to 8 p.m., with a walk-through the night before. There will be various categories including businesses and families. Proceeds will go to charities and various place winners will receive medals.
Fire department water barrel competition is new this year, scheduled for after the parade and before fireworks.
There will be children's activities from 5 to 8 p.m.
The grand finale fireworks display is slated to start around 9 p.m.
The committee will meet again in May to finalize events and their times.