Local horticulture educator wins State award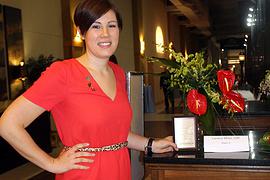 STATELINE – Candice Miller, a University of Illinois Extension Horticulture educator serving, Boone, DeKalb, Ogle, Jo Daviess, Stephenson, and Winnebago counties was recently awarded a State Communications Award for her Social Media Flyer by the Illinois Extension Agricultural Association. Miller reaches out to her program participants through various social media outlets, like Facebook and Twitter. This piece will now go on and be judged for a potential national award. Last year, Miller won this award for a factsheet she created on Plants That Cause Skin Irritation.
Through her position as Horticulture educator, Miller provides programming on a variety of home horticultural topics. Whether your interest is growing your own vegetables or if growing flowers is more your gardening style, U of I Extension has programs to fit your needs. The goal of our Horticulture programming is to educate and inspire members of the community.
Remember to "Like" Miller's social media sites to stay up-to-date on programs in your area, as well as local gardening news.
Facebook: https://www.facebook.com/northwestillinoishorticulture
Twitter: https://twitter.com/NWILExtHort
Hort in the Home Landscape Blog: http://web.extension.illinois.edu/jsw/eb284/
Pinterest: https://www.pinterest.com/nwilexthort/