New police officer welcomed at Loves Park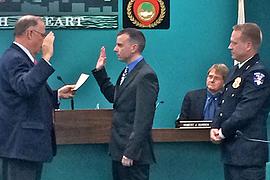 By Margaret Downing
Reporter
LOVES PARK – After approval by aldermen at the March 23 Loves Park City Council meeting, Mayor Darryl Lindberg swore in the newest addition to the city's police department.
Jerry Pyfer is a 2006 graduate of Harlem High School and replaces a position left vacant in 2009 at the retirement of Officer Randy Jones. Pyfer's employment was effective March 24 and the new officer was set to travel downstate for three months of police training starting March 29.
A resolution was passed authorizing construction engineering services not to exceed $299,120 for the Alpine Road reconstruction project between E. Riverside Blvd. and Rivington Road.
A resolution was also okayed authorizing engineering services for the 2015 citywide street improvement program at cost not to exceed $36,400. Alderman Julie Hobel voted no on both resolution citing the fact that neither went out for bids.
Mayor Lindberg noted that "We don't get bids on professional services." Attorney Gino Galluzzo stated that the city has a relationship with the companies involved "and bids are not needed."
An ordinance, second reading, providing for a Class E (packaged beer and wine) liquor license for Choices Natural Market in the 6700 block of Broadcast Parkway, was passed.
Alderman Clint Little gave the weekly police activity report for the week of March 15-21. A total of 519 calls for service, 221 arrests, and 11 accidents were reported. On the weekly fire department report dated March 22, one fire call, one false fire alarm call, one carbon monoxide or gas leak call, and one assist police call were reported.
Alderman John Pruitt gave the monthly building report for February. He noted that 45 building permits had been issued and $5,268 in permit fees collected.
City Clerk Bob Burden reported that Motor Fuel Tax funds received from the Illinois Department of Transportation for the month of February amounted to $43,109.03.
Water fund bills totaling $172,644.43, and general fund and all other bills coming to $131,925.83, as presented on March 16, were approved for payment.
Mayor Darryl Lindberg announced that the council will hold a "Committee of the Whole" meeting March 30 for a police department presentation on changes to the city's administrative towing ordinance.